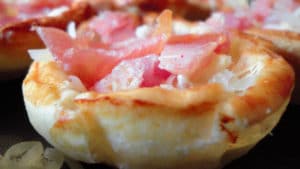 Mini quiche recipe
Summary : Recipe for savory quiches, ideal if you have friends who come over for dinner. Lorraine quiche recipe, many variations exist with quiches, here a little memory of a passage in Loraine. Comté cheese quiche, it is almost obligatory for me, impossible to make quiches without using the Comté, it is still the most consumed cheese in France. It is also a recipe with raw ham rather than using bacon, I especially like the flavors when the hams are baking in the oven, they all perfume the house with this mini quiche.
Mini quiche recipe for 32 mini tartlets
Ingredients :
1 roll of puff pastry
100 g of Comté
50 g of raw ham
2 eggs
20 cl of cream
1 tablespoon of flour
20 g butter
1 pinch of nutmeg
Instructions
Preheat the oven to 200 °
Roll out the puff pastry.
Cut it with a cookie cutter with a diameter barely larger than your tartlet molds.
Garnish the molds with puff pastry.
Prick the center of your tarts with a fork.
Place a piece of paper and fill with small pebbles.
Bake in a hot oven 200 ° for 12 minutes.
Top your grated Comté tartlets then with raw ham cut into small squares.
Beat the eggs in a bowl, then gradually add the flour to obtain a smooth dough.
Add the cream and melted butter.
Pour into the tarts over the raw ham.
Leather in a hot oven at 200 ° for 15 minutes
Preparation time: 30 minutes
Cooking time: 15 minutes
Number of people: 32 mini tartlets
4 star rating: 1 review
.
What wine to drink with: Mini quiche
My favorite wine for this recipe: Riesling Grape Riesling
Temperature between 8 ° and 10 °