<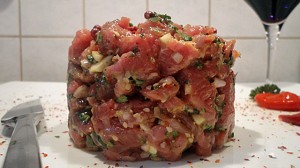 Recipe: Beef tartare
Beef tartare recipe, for this recipe I cut it with a knife. I bored my friend Sam my butcher, choosing the piece and as usual I was not disappointed, a tasty beef tender to die for. I prepared and accommodated my beef tartare directly, at the restaurant and when I am really confident, I like to prepare it myself. For the piece of beef the taste varies but you can make your beef tartare with: tenderloin or Rump steak, but the sound of the pieces quite expensive while a drowning cottage will do very well, it's just a problem of means? Beef tartare for raw meat lovers.
Recipe ingredients
Beef tartare recipe for 2 people:
500g minced meat
1 tablespoon of pitted green olives
2 shallots
1 small onion
1 lime
Olive oil
2 drops of Tabasco
1 teaspoon of mustard
4 small pickles
1 tablespoon of capers
1 tablespoon of sesame
Espelette pepper
¼ nutmeg
Salt and pepper
Instructions
Trim the beef then cut it into strips.
Then dice it.
Then crush it quite finely.
Cut the pickle into thin strips, then crush it.
Peel the shallots, then finely chop them.
Peel the onion, then finely chop it.
Crush the capers.
Gather all the ingredients in a salad bowl.
Add the sesame seeds.
Add the Guérande fleur de sel.
Season with pepper and grate the nutmeg.
Preparation time: 40 minutes
Cooking time: 0 minutes
Number of people: 2
4 star rating: 1 review
What wine to drink with: Beef tartare
My favorite wine for this recipe: Château neuf du pape Grape variety: Syrah; mourvèdre; black grenache
Temperature between 16 ° and 18 °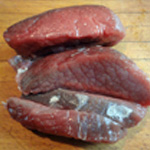 Trim the meat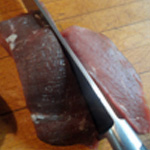 To slice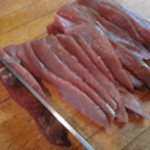 Cut into strips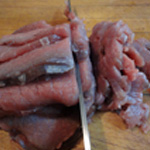 Cut into cube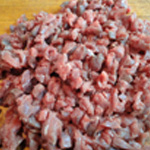 Crush
Season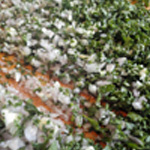 Parsley shallots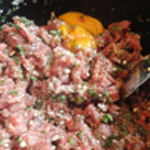 Add the yolks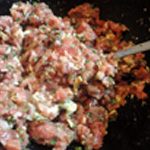 To mix together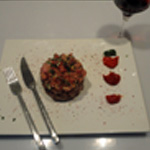 On plate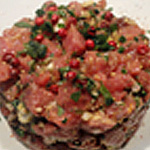 Zoom