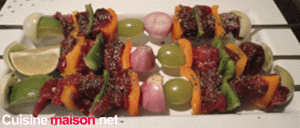 Tuna skewers recipe
Instructions
It is surely one of our favorite fish, that the bluefin tuna, just be careful with the cooking. Barbecued tuna or tuna skewers. A fish skewer with red tuna, garnished with vegetables this fish skewer is a complete meal. A tuna skewer to cook in the oven or barbecue, fish skewers are very healthy. Bluefin tuna is great for barbecuing. the consumption of bluefin tuna and monitored of course with all the abuses in the world. a quick and rather dose cooking will put the spotlight on your tuna skewers.
Tuna skewers recipe for 4 people:
Ingredients
350 g fresh tuna 1 lime ½ green pepper
½ yellow pepper
½ orange pepper
2 shallots
1 onion
4 large grapes
2 tablespoons of olive oil
1 teaspoon of dried oregano
½ teaspoon of coarse salt
¼ teaspoon of gray pepper.
Instructions
Rinse the peppers then dry them with paper towels.
Cut the peppers into quarters removed the white, then quarter again.
Peel the shallots then cut them into quarters. Peel the onion and cut it in half, peel the onion.
Trim the tuna and cut it into 16 equal pieces.
Assemble the all identical skewers for the fen.
Mix the olive oil with the dried oregano, salt and pepper. Brush your skewers with your preparation.
Bake in a hot oven at 180 ° for 11 minutes or on the barbecue, if time permits.
Preparation time: 10 minutes
Cooking time: 4 to 6 minutes
Number of people: 4
4 star rating: 1 review
What wine to drink with: Tuna skewers
My favorite wine for this Volnay Grape variety recipe: pinot noir
Temperature between 15 ° and 16 °
Ingredients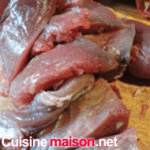 Slice the tuna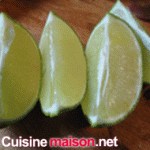 Cut the lemons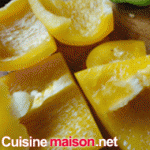 Yellow pepper in 8
Green pepper in 8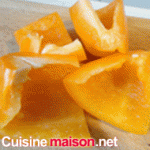 Orange pepper in 4
Oil
Oregano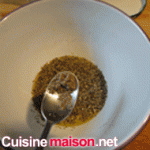 Stir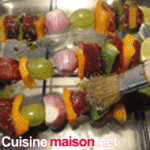 Brush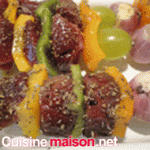 Raw skewers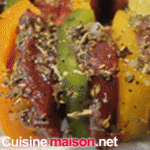 Zoom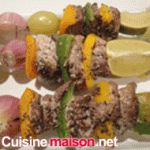 Grape and lime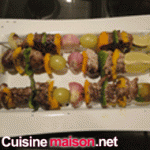 Cooked skewer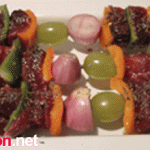 To end