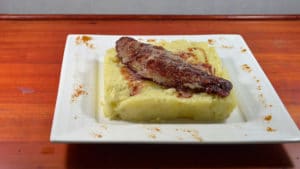 Recipe for breaded calf's liver with walnuts
A nice way to enjoy a slice of calf's liver, I like to taste this liver so tender and a little crispy with this recipe of calf's liver breaded with walnuts. What is interesting in addition to the flavor that the nuts provide is the protection for cooking, it will be a little slower. Calf liver is always so expensive, but it's so good. It is not always easy to find calf's liver; I'm lucky to have a butcher friend, I admit that it helps. I accompanied my breaded calf liver with walnuts with a nice mash with a fork and tasted with a Syrah, a pure wonder !!
Recipe of breaded calf's liver with walnuts for 2 people:
Ingredients
2 nice slices of veal liver
7 beautiful nuts
1 tablespoon of flaked almonds
1 tablespoon of flour
1 egg
40g butter
1 tablespoon of olive oil
Instructions
Crack the nuts.
Mix the nuts with the flour, the slivered almonds.
Crack the egg, salt and pepper it, then beat it.
Pour the powdered preparation into a deep plate.
Wipe the calf's liver with food paper.
Dip the liver slices in the egg and then in the breadcrumbs.
Heat a pan with the butter and oil, let the butter foam a little.
Gently place the slices of liver in the butter which foams.
Lower the heat, the breadcrumbs should not burn.
Turn the slices over as soon as they are colored.
Preparation time: 5 minutes
Cooking time: 4 to 5 minutes
Number of people: 2
4 star rating: 1 review
What wine to drink with: Breaded calf's liver with walnuts
My favorite wine for this recipe: Syrah Cépage Syrah
Temperature between 15 ° and 18 °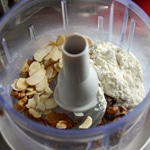 Mix the nuts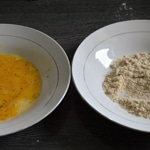 Breaking the egg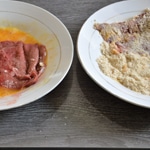 Dip in the egg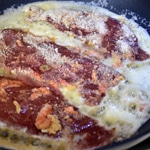 Cook gently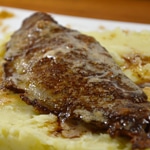 Zoom