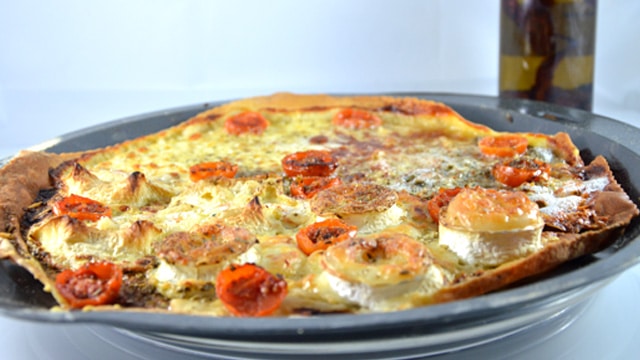 Recipe: Cheese pizza
Cheese pizza. Pizza rich enough for the garnish, only cheese, the few cherry tomatoes are just for fun. Make a homemade pizza, homemade dough and after that, store-bought pizzas are over where you are knocked out with the price, and where sometimes, if you are looking for the pizza topping, this cheese pizza is royal here. Divinely au gratin, almost crispy with all these cheeses that cook on an ultra thin dough, yes at home we like pizzas with a thin dough. A meal for the whole family, with us we love cheese pizza.
Recipe ingredients
Cheese pizza recipe for 3 people:
8 tablespoons heavy or liquid cream
70 gr of grated Gruyere
150 g of Bresse blue
150 g of Roquefort
125 g mozzarella
180 g of goat cheese
2 teaspoons of dried coriander
1 teaspoon of hot oil
10 cherry tomatoes
Instructions
Preheat the oven to 220 °
Make your pizza dough.
Roll out the pizza dough taken out of the refrigerator 1 hour before.
Distribute the heavy cream or liquid.
Start with the grated cheese, spread it all over the pizza.
Fill a quarter of the pizza with the cubed Roquefort.
Add on the other quarter the blue cut into quarters.
Slice the log into a round, then and place on another quarter.
Slice the mozzarella into three slices, then place it on the last quarter.
Rinse then cut the cherry tomatoes in half, then scatter them over the pizza.
Bake in a hot oven for 25 minutes.
Preparation time: 30 minutes
Cooking time: 25 minutes
Number of people: 3
4 star rating: 1 review
What wine to drink with: Cheese pizza
My favorite wine for this recipe: Rosé d'Anjou Grape Cabernet Franc and Sauvignon
Temperature between 08 ° and 10 °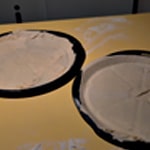 Roll out the dough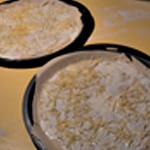 Start with the cream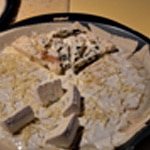 Add cheese
Add some cherry tomatoes
Zoom