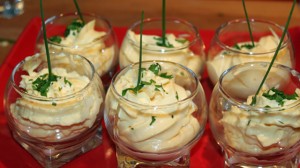 Recipe: Butternut Espuma
Butternut espuma recipe with my espuma siphon, a perfect appetizer for a festive starter. This siphon mousse is light in texture but very sweet in taste, with the butternut that remains the Rolls of squash and pumpkin. This salty espumas with the taste of butternut squash, should be served chilled. Here is your appetizer for Christmas a butternut foam.
Recipe ingredients
Butternut espuma recipe for 4 people
350 gr Butternut squash
120 ml of fluid cream
1 bird's eye chili
Salt and pepper
Instructions
Peel the Butternut squash.
Cook the squash in broth. Once cooked, keep the broth.
Mix in a blender, adding a little cooking juice, salt and pepper.
Pass to Chinese in order to have a smooth preparation.
Mix ¾ of the preparation with ¼ of very cold fluid cream.
Leave to rest in the refrigerator.
Before serving, shake vigorously.
Preparation time: 20 minutes
Cooking time: 10 minutes
Number of people: 4
4 star rating: 1 review (s
What wine to drink with: Espuma de Butternut
My favorite wine for this Rully blanc Cépage Chardonnay recipe:
Temperature between 8 ° and 9 °
Thanks to Catherine from Chateau de Roche for the recipe