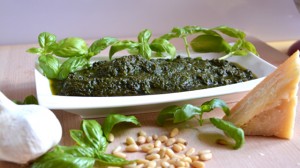 Recipe: Basil and Parmesan Pesto
Basil pesto recipe from grandma's garden in Fallon, every year Ginette plants basil so I can make pesto, love it. I like to eat spaghetti with basil pesto, pour it cold over hot pasta, the pesto will melt with a little Parmesan, it's sublime. The basil pesto will keep for several months in the refrigerator, it will suffice to ensure that it is always covered with olive oil. Once picked, you have to work quickly, because the basil leaves quickly wither in the heat.
Recipe ingredients
Basil and Parmesan pesto recipe for 8 people:
500g basil leaves
8 gr of salt
200 g pine nuts
300 gr of parmesan
80 cl of olive oil
50 gr of garlic or more depending on taste
Instructions
Remove the leaves from the basil, for the pesto we only keep the leaves.
Rinse the basil leaves under running water.
Dry with food paper, I leave them overnight on my sink.
Crush the basil leaves with a knife, to help your blender.
Peel the garlic and roughly chop it.
Crush the Parmesan (be careful adding Parmesan, you can only keep it for about 15 days)
Mix the basil with the garlic and the Parmesan.
Salt and pepper.
Preparation time: 25 minutes
Cooking time: 0 minutes
Number of people: 8
4 star rating: 1 review
What wine to drink with: Basil and Parmesan pesto
You will choose a wine according to what you are going to serve with the pesto, pasta, poultry, rice….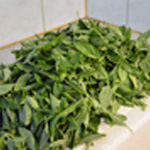 Dry the basil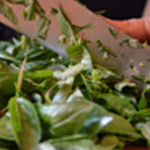 Crush the basil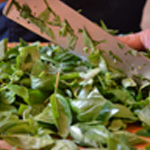 Coarsely crush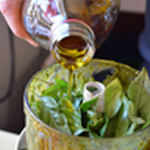 Add oil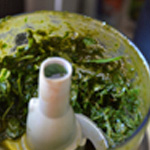 Mixer