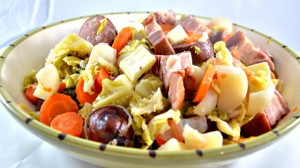 Recipe: Cabbage stew
Cabbage stew recipe, I made my stew with beautiful Morteau sausage, I wanted a jesus but I couldn't find one. I particularly like this Franc Comtoise hotpot which cooks with white jura. Cabbage is divinely flavored with white wine and Morteau, it becomes almost a little sweet. The turnips also perfume the cabbage, here they are almost candied, they melt under the tongue, all of them eat children and adults. La Morteau is equal to her, just smoked but not too much, a delicious sausage that has no equal. Cabbage stew with Morteau, require labeled Morteau, you will never be disappointed.
Recipe ingredients
Cabbage stew recipe for 8 people:
2 large kale
4 Morteau sausages
500 g smoked bacon, cut into 3 strips
1 tablespoon of peppercorns
5 juniper berries
2 cloves
1.5 kg of carrots
1 kg of baby turnips
1 large onion
40 cl of Jura coast
60 g butter
Instructions
Remove the first leaves from the cabbage.
Cut the cabbages into quarters.
Blanch the cabbages in simmering water for 10 minutes.
Cool the cabbages with cold water.
Delete sections
Cut the cabbages into squares.
Peel the carrots then cut them into slices
Peel the turnips then cut them into quarters.
Blanch the carrots and turnips in simmering water for 20 minutes.
Peel the onion and finely chop.
Heat a large cast iron casserole dish with the butter.
Sear the onions in the hot butter.
Add the cabbage and sear it with the onions.
Add carrots and turnips.
Pour the white wine
Add the peppers, cloves and juniper berries.
Slice the Morteau sausage into large rings of 2 to 3 cents.
Cut the strips of smoked bacon into large cubes of 2 to 3 cents.
Add the meat to the cabbage.
Mix the meat with the vegetables, place the lid on the cast iron casserole dish and simmer for two hours.
Check regularly that your cabbage is not burning.
Preparation time: 20 minutes
Cooking time: 2 hour (s)
Number of people: 8
4 star rating: 1 review
What wine to drink with: Cabbage stew
My favorite wine for this recipe: Côte du jura blanc Grape variety Savagnin blanc, Pinot blanc, Chardonnay
Temperature between 06 ° and 08 °
Thanks to Raphaëlle for lending your book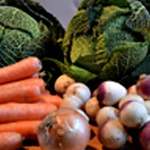 The ingredients of the hotpot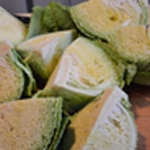 Cut the cabbage into quarters
Blanch the cabbage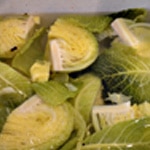 Cool the cabbage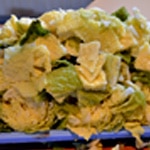 Slice the cabbage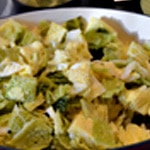 Sear the cabbage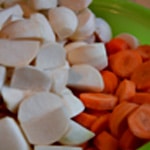 Peel cut vegetables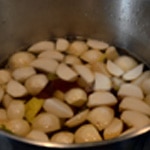 Blanch the vegetables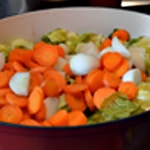 Add the vegetables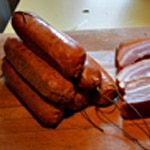 Cut the meat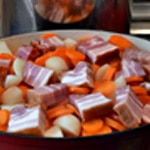 Add the breast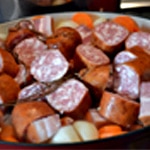 Add the sausage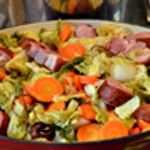 Let it be for now
Zoom<img src="/wp-content/uploads/2021/09/8520013879286905064.jpg" class="aligncenter"