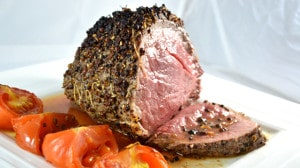 Recipe: Roosbif with peppercorns
Roast beef recipe with peppercorns, a very rare meat coated in a coat of peppercorns, crushed just before cooking. Don't forget to take your roast beef out at least an hour before cooking it, just like to wait 5 to 10 minutes after cooking before cutting it. I like beef and especially large pieces, I like going to my butcher for this kind of dish, I listen to his advice. But my favorite cooking is the barbecue, I love when the meat is licked by the flames, I love to feel the heat of the barbecue plates. Roast beef with peppercorns, a meat with a lot of character. My daughter thought it was too peppery, so it's weird, I loved it, plus I had selected quality peppers. What a pleasure, before starting to crush the peppercorns, to feel the aromas released by the peppers from the first strikes of the pestles. If you do not have quality pepper, you will find small doses of peppercorns on the market so you can make my roast beef with peppercorns recipe.
Recipe ingredients
Roast beef with peppercorns for 6 people:
3 teaspoons of peppercorns 4 berries
2 teaspoons of red Sichuan pepper.
2 teaspoons of Sichuan pepper
1 spoon of Pondicherry pepper
1 teaspoon of fleur de sel
1.200 kg of roast beef
60 g butter
Instructions
Heat the oven to 200 °
Take out the roast beef an hour before cooking.
Coarsely crush the peppers and salt in a mortar.
Roll the roast beef in the pepper.
Spread the remaining pepper with your hand.
Place the roast beef in a buttered ovenproof dish.
Cook the roast beef between 30 and 35 minutes, it takes 15 minutes per 500 gr, I like it not overcooked.
Cover the meat from the exit with aluminum foil and let the meat rest for about ten minutes.
Cut the roast beef.
Preparation time: 20 minutes
Cooking time: 35 minutes
Number of people: 6
4 star rating: 1 review
What wine to drink with: Roast beef with peppercorns
My favorite wine for this recipe: Vosne Romanée Grape Pinot Noir
Temperature between 13 ° and 16 °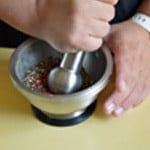 Loot the pepper in a mortar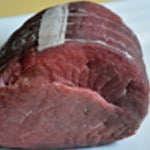 Take out the meat before cooking it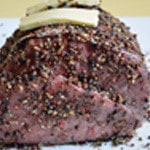 Roll the roast in the pepper
Cooked roast beef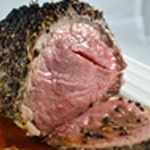 Slice the roast