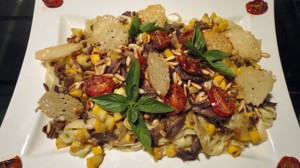 Recipe: Pasta with anchovies
Recipe for pasta with anchovies or tagliatelle with puttanesca a very special flavor for lovers of pasta with anchovies. A recipe with anchovies to accompany the homemade tagliatelle, the slightly heated anchovies will release a barely salty flavor. Easy recipe for fresh Italian pasta. we love fresh pasta at home so much that sometimes I have to look for new ideas in order to always surprise my little community with a success with these pasta with anchovies.
Recipe ingredients
Recipe Pasta with anchovies for 4 people
350 g of fresh tagliatelle
400 g of prawns
1 small yellow zucchini
4 cloves of garlic
125 g of mascarpone
2 tablespoons of chopped cilantro
50 gr of parmesan
20 g butter
8 cherry tomatoes
4 sprigs of basil
125 g pine nuts
Salt and pepper
Instructions
Wash and rinse the cherry tomatoes, yellow zucchini and herbs.
Remove the leaves and chop the coriander with a knife.
Cut the cherry tomatoes in half, then put them in a hot oven at 180 ° for 10 minutes.
Slice the Parmesan into small squares, then place it on baking paper and put it in the 250 ° grill for 4 minutes (monitor the cooking).
Barely allow the Parmesan tiles to cool, set aside.
Cut the yellow zucchini into a one-cm strip, then into small quarters.
Cook the tagliatelle in a large volume of unsalted water.
Dry roast the pine nuts in a pan.
Heat the butter then add the minced garlic.
Add the pieces of yellow zucchini, then at the end of cooking the zucchini heat the anchovies.
Place the tagliatelle on each plate, then add the zucchini and anchovy mixture.
Distribute the cherry tomatoes and the Parmesan tiles.
Add a sprig of basil and enjoy.
Number of people: 4
Preparation time: 10 minutes
Cooking time: 4 to 6 minutes
Number of people: 4
4 star rating: 1 review
What wine to drink with: Anchovy pasta
My favorite wine for this Collioure rosé recipe Grape variety: Grenache noir, Cinsault, Carignan
Temperature between 11 ° and 12 °
Thank you to Rosabel de Vesoul store for its dishes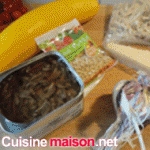 Ingredients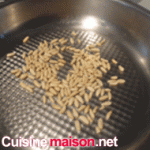 Sear the pine nuts dry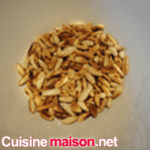 Golden pinions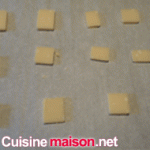 Gratin the Parmesan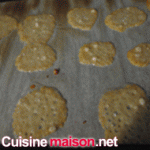 Parmesan tiles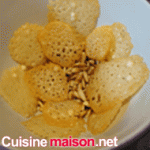 To book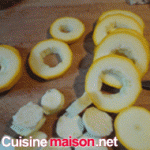 Slice the zucchini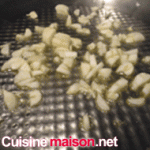 Sear the garlic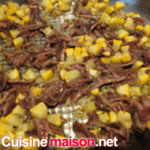 Add the zucchini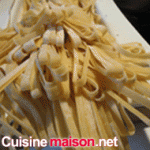 Homemade tagliatelle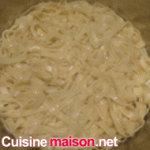 Cooked tagliatelle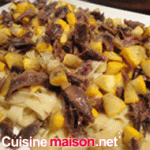 Place the anchovies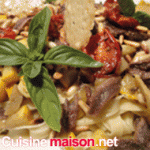 Tiles and cherry ranger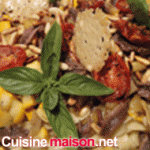 Zoom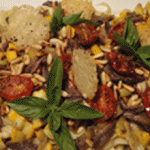 <img src="/wp-content/uploads/2021/09/7191778685577869304.jpg" class="aligncenter"