Recipe: Pistachio panna cotta
Pistachio panna cotta recipe for pistachio lovers. At home we weren't too much of a fan, but the guests loved it, as what the tastes and the colors! I liked the color of my verrines, this green was royal, without coloring. Often we look for colors for the buffets, I will now think of pistachio.
Recipe ingredients
Pistachio and vanilla panna cotta recipe for 4 people:
40 cl of cream
80 g pistachio noodles
½ tablespoon of vanilla sugar
20 cl of whipped cream
1 g of agar agar
Instructions
Heat 30 g of cream from the first broth added the gelling agent.
Pour the pistachio paste and incorporate it into the cream.
Sprinkle the vanilla sugar in the pistachio cream.
Pour into the verrines as soon as the preparation is lukewarm but not cold.
Reserve in the refrigerator for 30 minutes.
Whip the whipped cream.
Pour using a notched pocket on each verrine.
Return to refrigerator until consumption.
Preparation time: 15 minutes
Cooking time: 0 minutes
Number of people: 4
4 star rating: 1 review
What wine to drink with: Panna cotta pistachio
My favorite wine for this recipe: Arbois rosé Cépage Poulsard
Temperature between 10 ° and 12 °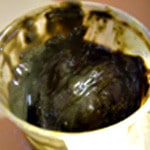 Pistachio paste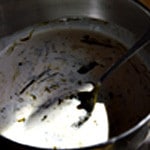 Add the cream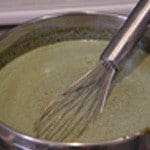 Stir to incorporate the cream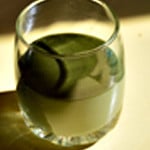 Pour into the verrine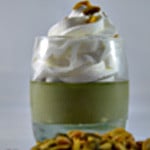 Zoom