Recipe: Hot oysters and chili
Instructions
Hot oyster and chilli recipe, I loved the sweetness of the sabayon, the texture of the oysters and the strength of the West Indian chili. Everyone will play with the pepper according to the desired taste, but beware this pepper moves. I like hot oysters or cold it doesn't matter, but making them hot allows everyone to pair them with different ingredients. Hot oysters with chili, a revelation for me, I really liked this taste of chili, a little strong but so surprising. Oysters for the end of the year can be found everywhere, it allows us to think of the sea. Remember a recipe in 2015
Recipe ingredients:
Hot oyster and chilli pepper recipe for 3 people:
12 Hollow oysters N ° 3 from the Arcachon Basin
1 West Indian pepper
15 cl of white wine
15 cl of liquid cream
1 egg yolk
Instructions
Rinse the chilli quickly under the tap.
Cut the chilli in half, then half into tiny cubes and the other into 12 strips.
Open the oysters and collect the first water
Wait a bit then collect the second water.
Take the oysters out of the shell.
Filter the oyster water with a Chinese.
Heat the water and let it boil and reduce by half.
Pour in the wine and let reduce by half for about 10 minutes
Add the cream and let reduce further, in order to obtain a very smooth sauce, you need about a tablespoon per oyster.
Place the oyster shells on a ball of aluminum foil, and press so that they are quite stable.
Place one oyster per shell.
Place 2 to 3 pieces of chili in each shell, be careful the chili is very hot.
Mix the egg yolk with the sauce off the heat.
Pour sauce over each oyster to fill the shell.
Place the slice of pepper on the sabayon.
Place in a hot oven at 200 ° for 7 to 8 minutes.
Preparation time: 25 minute (s)
Cooking time: 7 to 8 minutes
Number of people: 3
4 star rating: 1 review
What wine to drink with: Hot oysters and chili
My favorite wine for this recipe: Beaujolais Blanc Cépage Chardonay
Temperature between 10 ° and 12 °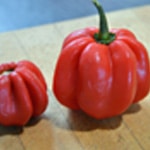 Chillies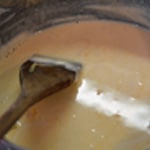 Prepare the sauce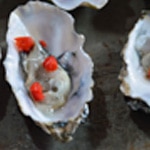 A few pieces of chili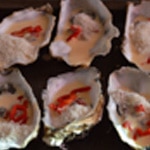 Add the sabayon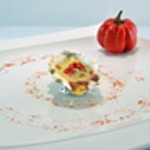 zoom