<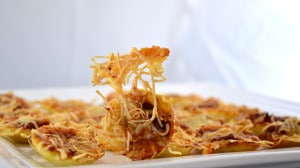 Recipe: Spicy tomato and emmental puff pastry
Spicy tomato and emmental puff pastry recipe, these are small pieces that are moving. Be careful to manage the chili puree well, I admit that I had forced a little, but I like it when it takes your breath away. Children forbidden to consume these pieces of fire and the rosé flowed afloat that day. It's amazing what you can do with this canned tomato reduction. Spicy tomato and emmental puff pastry, very beautiful colors, they heat these small pieces. Aperitifs at home are always great moments of gluttony, we particularly like these great moments with friends where everyone remakes the world. It is true at the end, it is often in great drift … and even more, this time with these spicy tomato and emmental puff pastry, we had to put out the fire in us.
Recipe ingredients
Spicy tomato and emmental puff pastry recipe for about 23 pieces:
1 roll of puff pastry
15 cl of tomato puree
150 g Emmental
1 tablespoon of white sesame
1 tablespoon of chili puree
Instructions
Preheat the oven to 200 °, for cooking in the middle of the oven.
Take out the puff pastry 15 minutes before rolling it out.
Prepare your tomato paste as here.
Add the chili puree, then stir.
Grate the Emmental.
Roll out the puff pastry.
Use a cookie cutter to cut the circles barely larger than the silicone impressions.
Place a circle by imprint by placing it a little at the bottom.
Pour in a teaspoon of tomato.
Add the grated Emmental.
Pepper generously and salt lightly.
Sprinkle the sesame seeds in the indentations.
Bake for 15 to 20 minutes and leave to brown.
Serve lukewarm but above all not hot.
Preparation time: 30 minutes
Cooking time: 15 minutes
Number of rooms: 23
5 star rating: 1 review
What wine to drink with: Tangy tomato and emmental cheese puffs
My favorite wine for this recipe: Arbois Poulsard Grape variety: Poulsard, Trousseau, Pinot noir
Temperature between 11 ° and 13 °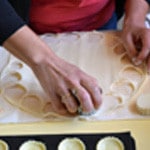 Cut circles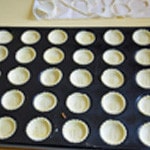 Place in the molds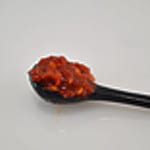 Chilli mash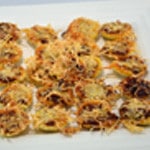 Cooked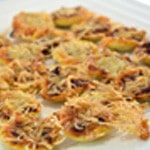 Zoom