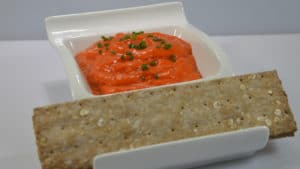 Pepper Rillettes Recipe
Aperitifs at home are always great moments, in time of course, but above all in originality, in fact I never do the same things so today I presented pepper rillettes, with their beautiful bright red color, they were sweet but very tasty. Put only potatoes in my Pepper Rillettes, this gives them a very soft texture and are ultra light, the girls are happy… I had roasted peppers in a jar, it's super quick to make, just 3 minutes in the microwave to cook the potato, a little blender and it's ready, I would say less than 8 minutes to make these pepper rillettes, ultra good, you will love, to test is to adopt them, with the taste and the color, just a little Tabasco for a little spiciness, be careful not to overdo it.
Pepper rillettes recipe for 4 people:
Ingredients
2 potatoes
200 g canned roasted peppers
1 drop of Tabasco
Instructions
Slice the potatoes into rings.
Season the potatoes with salt and pepper.
Film them and cook them for 3 minutes in the microwave.
Let cool then peel the potatoes.
Drain the peppers in a colander.
Mix the cold potatoes with the peppers.
Add a few drops of Tabasco, be careful, it's very strong.
Pour into a container and leave to rest in the refrigerator.
Preparation time: 8 minutes
Cooking time: 3 minutes
Number of people: 4
4 star rating: 1 review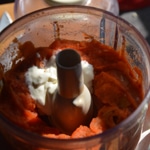 Mixer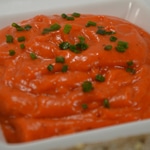 Zoom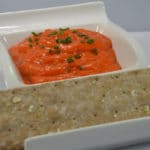 What wine to drink with: Pepper rillettes
My favorite wine for this recipe: Sparkling Côte de Bourg Cépage Sémillon, Muscadelle, Sauvignon
Temperature between 10 ° and 12 °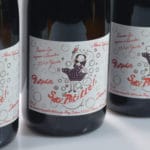 Zoom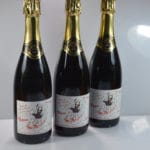 Bottles
Partnership with Château Lacouture in Gauriac in Gironde
A thought to all those connected from France or abroad in love with French cuisine and its wines, here is a great opportunity for you to buy a quality wine, without any risk, to accompany my recipe for Pepper Rillettes . I selected this traditional from the Château Lacouture estate after tasting it, I loved it.
Traditional method Suki Pétille
Still a lot of good humor with this sparkling suki wine, Romain innovates with one of the first sparkling wines in Côte de Bourg, a bet he is winning. The result is a light, fruity, cheerful and sparkling wine. Some experts compare it to Champagne, in any case taste, you will surprise your friends, with this wonderful wine and its beautiful label.
Meeting in Gauriac at Château Lacouture for the comic book festival on May 13 and 14, 2017
Chateau Lacouture
3 route du Fronton
37710 Gauriac
Phone: 05 57 64 82 31
Email: chateaulacouture [at] orange.fr