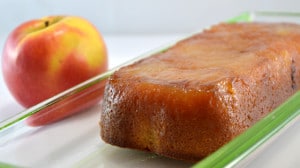 Recipe: cake and Tatin apples
Recipe for Cake and Tatin apples, the apples on my apple tree have been falling for a month, it's madness, so I'm going to dessert with apples a little early. I just baked 10 apple cakes for Wedding Friday, a dessert I'm going to freeze. Cake and Tatin apples, a delicious, candied and sweet dessert. Whipped cream will sweeten this dessert. A beautiful cake with candied apples, impossible not to like. Usually apples are plentiful this year, but my apple tree has lost three quarters of its fruit, I'm a little disgusted, I thought it would be a good season. For cooking I like to use slightly acidic apples, to compensate a little for the sugar in the cake and Tatin apples.
Recipe ingredients
Cake and Tatin apple recipe for 8 people:
12 apples
300 gr of flour
300 gr eggs
150 gr of sugar
150 gr of honey
300 gr of butter
15 g of yeast
150 gr heavy cream
Instructions
Peel the apples and remove the middle.
Line the cake molds.
Cut the apples into quarters.
Heat a pan with half the butter and half the sugar.
Arrange half of the apples and cook gently, so that the caramel forms.
Turn the apples regularly, then place in the molds.
Repeat the operation with the remaining apples.
Sift the flour with the baking powder.
Crack the eggs over the flour.
Knead gently.
Add the soft butter and sugar.
Pour in the honey as soon as the dough is smooth.
Pour into the molds over the apples.
Bake in the hot oven for 30 to 35 minutes on hot air.
Whip the cream just before serving and add a spoonful of cream to each guest.
Preparation time: 45 minutes
Cooking time: 35 minutes
Number of people: 8
4 star rating: 1 review
What wine to drink with: Cake and Tatin apples
My favorite wine for this recipe: Savagnin yellow wine, Chardonnay, Pinot blanc
Temperature between 15 ° and 16 °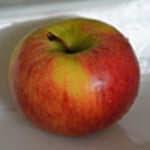 Apple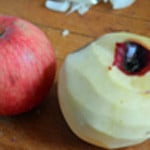 Peel the apples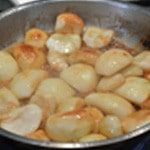 Sear the apples in the butter and sugar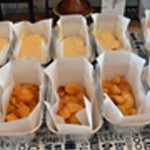 Start with the apples then the dough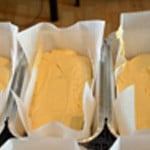 Ready to cook