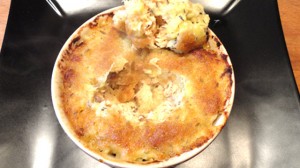 Recipe: Zucchini Parmentier with Salmon
Recipe Parmentier courgette with salmon. With the abundance of zucchini in the gardens and a small promotion of salmon in my hypermarket, we opted for our evening meal for a Parmentier of salmon with zucchini. Fresh salmon recipe, at home they are crazy about salmon. In this recipe, the salmon can be replaced by another fish, take advantage of the promotions in your store. Zucchini Parmentier goes very well with fish, but also with meats, it is a generous vegetable.
Recipe ingredients
Parmentier recipe of zucchini with salmon for 6 people
1 kg zucchini
300 g of potatoes
400 g of salmon
2 teaspoons of heavy cream
2 onions
1 tablespoon of olive oil
½ bunch of parsley
2 teaspoons of basil
Instructions
Peel the zucchini, then cut them into small cubes.
Boil a large volume of salted water, in the first broth, put the zucchini for 2 minutes;
Then using a skimmer, remove the zucchini, saving the water for the potatoes.
Peel the potatoes, then cut them into small cubes.
Cook them in the first broth of the zucchini for 15 to 20 minutes depending on the potatoes.
In a salad bowl, mix and crush the zucchini and potatoes in a vegetable press, season with salt and pepper.
Heat the oil in a pan, cut and mince the onions, chop the parsley after having rinsed it, brown them in the pan.
In a dish put the salmon, salt and pepper, sprinkle with the basil,
Film and spend 3 minutes in the microwave at full power.
Once cooked, remove the leaves from the salmon.
Butter a baking dish and start with a first layer of vegetables, then the salmon and finish with a layer of vegetables.
Smooth with a fork, sprinkle a little breadcrumbs and bake in a hot oven 200 ° for 30 minutes.
Preparation time: 15 minutes
Cooking time: 30 minutes
Number of people: 6
4 star rating: 1 review
What wine to drink with: Parmentier of zucchini and salmon
My favorite wine for this recipe: Côte de Provence. Grape variety: Syrah; Grenache; Cabernet Sauvignon
Temperature: between 09 ° and 10 °