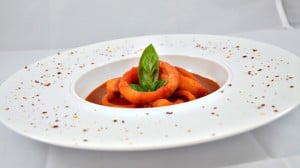 Recipe: Squid and tomato
Squid and tomato recipe, I used frozen squid rings, I wanted to do a test with these squid sold all year round for less than € 7 per kilo. Quick tomato sauce with a box of peeled tomatoes, so here is a fish recipe for less than 10 €. The cooking of the calamari is important, in fact, undercooked, they are very rubbery, but overcooked, they all become soft. Squid and tomato with white rice, we really enjoyed ourselves.
Recipe ingredients
Squid and tomato recipe for 6 people:
1 kg of squid
1 can of peeled tomato
3 onions
3 garlic
1 tablespoon of olive oil
15 cl of white wine
1 large spoon of paprika
Instructions
Peel the onions and garlic.
Slice the onion into small cubes.
Rinse the squid under running tap water.
Heat the cast iron casserole dish with olive oil.
Add the onions to the hot oil.
Let them become translucent.
Add the squid.
Squeeze the garlic and let the water from the squid evaporate.
Add the white wine.
Let evaporate a little more.
Pour in the peeled tomatoes.
Sprinkle with paprika.
Salt and pepper.
Simmer for 30 minutes.
Preparation time: 45 minutes
Cooking time: 30 minutes
Number of people: 6
4 star rating: 1 review
What wine to drink with: Squid and tomato
My favorite wine for this recipe: Bourgogne Rouge Grape Pinot Noir
Temperature between 15 ° and 16 °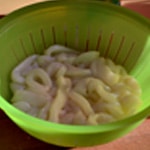 Rinse the rings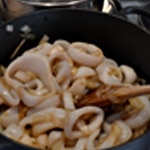 Grab the rings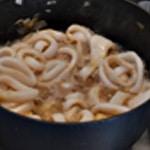 Let the water evaporate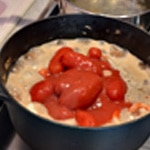 Add the tomatoes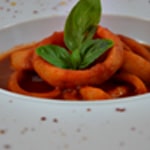 Zoom