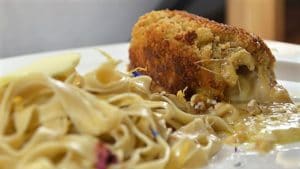 Instructions
We had Laureen for lunch at noon, the girls had halloween parties most of the night. I hope they will eat…. I like this kind of dish more and more: veal Cordon Bleu, full of flavor, slightly soft and crispy at the same time. The cream at the bottom of the dish makes it easy to recover all the cooking juices, frankly a shame to go without with this cordon bleu of veal, I sauced the bottom of the dish, of course discreetly, the girls have nothing seen !!! I prepared fresh tagliatelle to accompany my veal cordon bleu, a very pleasant marriage, to be redone. In addition Laureen has eaten everything, frankly sometimes she is difficult, but shhh !!!!!!!. You will not have photos for the recipe, they are on my hard drive which is sorry. Veal cordon bleu recipe for 5 people:
Ingredients
5 very thin veal cutlets
6 Comté slices (example entremont 120g)
6 slices of raw ham 160 g
3 eggs
3 tablespoons of breadcrumbs
20 g butter
1 tablespoon of olive oil
1 tablespoon of heavy cream
Salt and pepper.
Instructions
Preheat the oven to 200 °
Finely cut the veal cutlets or have your butcher do it.
Place a cutlet flat and crush it with the slice of a chef's knife.
Place 1 slice of Comté cut in half.
Then a very thin slice of raw ham.
Place 1 slice of Comté cut in half.
Roll the cord on itself, tightening it as much as possible.
Prick it with two wooden points.
Heat the pan with the butter and olive oil.
Place the cutlets and let them brown well.
Add the cream to the bottom of the dish, spread there.
Then place them in a baking dish.
Place in a hot oven for 10 minutes.
Enjoy immediately.
What wine to drink with Calf Cordon Bleu
My favorite wine for this recipe: Savagnin Cépage Savagnin blanc, Chardonay, pinot blanc
Temperature between 10 ° and 12 °