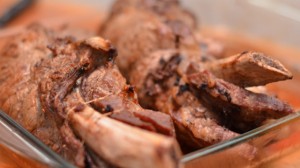 Recipe: Beef rib with sundried tomato tapenade
Rib of beef tomato tapenade recipe, a recipe for making beef ribs all year round, here baking in the oven. You no longer have to wait for barbecues to enjoy a nice piece of beef, you will rediscover the tastes and pleasures of barbecue. Enjoy this recipe in your apartment, you can share it with your friends, at home is very beef and especially the large pieces, no need to wait for the sun with my prime rib with tomato tapenade.
Recipe ingredients
Recipe Rib of beef with tomato tapenade for 3 people:
1 beef rib of 1,184 kg
100 g of sundried tomato tapenade, the recipe here
1 tablespoon of olive oil
Salt and pepper
Instructions
Remove the prime rib half an hour before working it.
Trim your prime rib or have it done by your butcher.
Cut out and remove the bone from the bottom of the prime rib.
Peel off the meat on the upper half of the rib to release it.
Cut the meat crosswise like a sandwich without going all the way.
Spread the sundried tomato tapenade inside the sandwich.
Pepper.
Close the meat on itself.
Surround the meat on itself around the rib.
Tie the meat up like a leg.
Heat a pan with the butter and oil.
Grill the prime rib on each side.
Let it color well.
Oil a baking dish.
Place the prime rib in the dish.
Bake in a hot oven at 220 ° rotating heat for 30 to 40 minutes depending on the desired cooking.
Cut the strings.
Salt.
Cover with a sheet of paper.
Let the meat rest for 5 minutes.
Cut up the prime rib and serve immediately.
Preparation time: 10 minutes
Cooking time: 30 to 40 minute (s)
Number of people: 3
5 star rating: 1 review
What wine to drink with: Prime rib with sundried tomato tapenade.
My favorite wine for this recipe: Beaune 1 er cru louis Jadot Pinot noir grape
Temperature between 16 ° and 17 °
Thanks to Thibaut and Janos for the wonderful photos, memory of a long weekend at Easter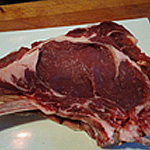 Take out the meat for 30 minutes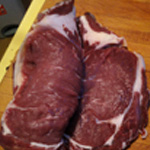 Open it in half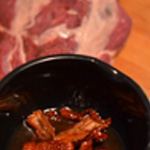 Rehydrate the tomatoes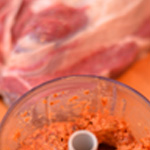 Mix the tomatoes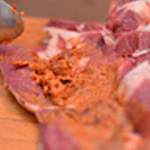 Spread with tapenade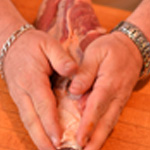 Wrap the meat
Tie up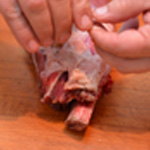 Starting with the tip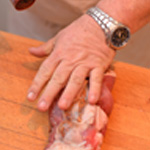 Tighten well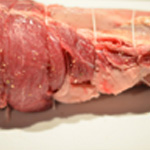 Like a roti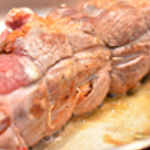 Sear in the pan<img src="/wp-content/uploads/2021/09/2704166184194628866.jpg" class="aligncenter"