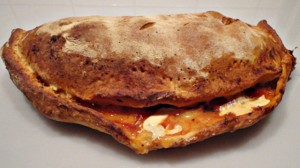 Recipe: Calzone
Calzone recipe, this is my favorite pizza, it cooks while keeping all its aromas. With a homemade dough this pizza is different from the others, nothing beats the moment when you open to taste this Calzone. The aromas arrive and whet our appetites, I used my food processor to make the pizza dough, super fast and really practical. It is customary with this recipe to put an egg in the Calzone, it will remain a little runny and the yolk will be deliciously flavored. Once tested this Calzone pizza will always be at the party.
Recipe ingredients
Calzone recipe for 4 pizzas:
800 g of pizza dough.
1 small green pepper
1 small red pepper
2 tomatoes
2 large mushrooms
2 small onions
140 g of artichoke hearts
1 small can of crushed tomatoes
1 small box of cooked artichoke hearts
4 eggs
70 g of mascarpone
Instructions
Roll out the pizza dough.
Cut a circle of pizza dough.
Cover half of your circle to make a semi-circle.
Lightly mark your pizza dough with a line to delimit the area to be stuffed.
Rinse all the vegetables in clean water.
Cover the half-moon with crushed tomatoes.
Finely chop the tomatoes and place half a tomato per calzone.
Thinly slice the peppers and arrange ¼ green pepper, then red.
Finely slice the mushrooms, add them to the peppers.
Slice the raw ham into strips and add it.
Cut the artichoke hearts in three and place them on the ham.
Crack an egg, be careful that it does not spill over the outside of the pizza,
Wet the edges of the pizza with a brush.
Close the calzone by welding the edges well.
Bake in a hot oven at 210 ° for 30 minutes.
Preparation time: 30 minutes
Cooking time: 30 minutes
Number of people: 4 pizzas
4 star rating: 1 review
What wine to drink with: Calzone
My favorite wine for this recipe: Rosé côte de Gascogne Cépage Merlot; Tannat
Temperature between 08 ° and 10 °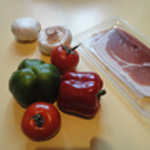 Ingredients
Roll out the dough in a circle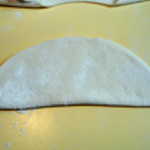 Mark 1/2 circle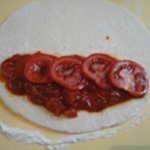 Sauce and tomato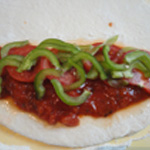 Pepper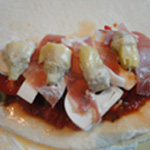 Artichoke heart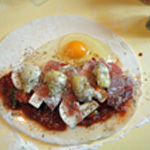 Calzone Egg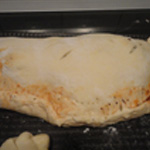 Ready to cook