Hazelnut terrine recipe
Instructions
A terrine, homemade terrine recipe with hazelnuts, for a picnic stroll along the river. Recipe for terrine n ° 2 macerate with a white Macon, just overnight to flavor the meat. Duck terrine, I used promotional duck breasts to make this homemade terrine. Duck pâté recipe, an easy recipe for people with little equipment. I kept the cooking juice from my hazelnut terrine to make my jelly, flavored with white Macon, it was a real treat.
Hazelnut terrine recipe for 8 people:
Ingredients
250 gr of boneless pork loin
300 gr of duck breast
100 gr of pork throat
200 gr of smoked bacon
45 cl of white Macon
14 gr of fine salt
1 carrot
2 gr of ground gray pepper
2 tablespoons of armagnac
1 sprig of thyme
3 bay leaves
1 small strip of bard
Instructions
Peel and slice the carrot.
Peel the onion and cut it into quarters.
Peel the garlic clove.
Cut the duck breast into small pieces
Denote and degrease the pork loin, then cut it into cubes
Cut the throat into small squares
Mix the meat in a salad bowl with the aromatics (thyme and bay leaf)
Leave to macerate overnight in the refrigerator.
Chop up your meat and throat as well as all the vegetables.
Mix by hand, salt and pepper.
Respect the proportions of salt and pepper, it is really important for the balance of your terrine.
Line the bottom of your terrine with the bard.
Dress the mold with the smoked breast.
Place the stuffing at the bottom.
Add the hazelnuts and pistachios as you fill your mold.
I used a number 2 terrine.
Once your terrine is well loaded, press with your fist.
Finish with the smoked bacon.
Bake in a cold oven at the start, in a bain-marie for 1 hour 30 minutes at 150 °.
Collect the cooking juices.
Filter the juice and let it sit in the refrigerator.
Remove the fat the next day from the juice.
Whip the jelly with this juice.
Pour the jelly directly onto the terrine, let stand for several days in the refrigerator.
Preparation time: 40 minutes
Cooking time: 1 hour 30 minutes
Number of people: 8
4 star rating: 1 review
Which wine to drink with the hazelnut terrine?
My favorite wine for this Mâcon village blanc recipe Grape variety: Chardonnay
Temperature between 11 ° and 13 °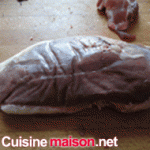 Magret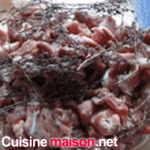 Cut the meat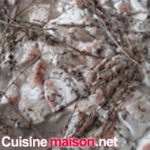 Let macerate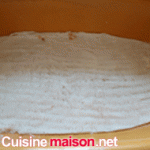 Bard the bottom
Add the breast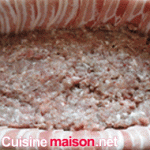 Add stuffing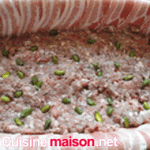 Add the pistachios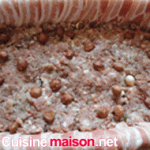 Sprinkle with hazelnuts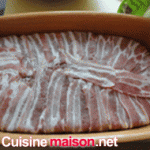 Ready to cook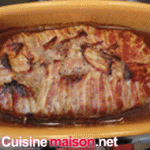 Reserve the juice for the jelly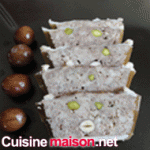 Terrine and cherries in vinegar<img src="/wp-content/uploads/2021/09/1938102402062578100.jpg" class="aligncenter"