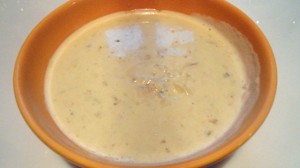 Recipe: Camambert sauce
Camembert sauce recipe, here is a cheese sauce, it can accompany pasta or rice at your convenience. Creamy sauce, choose a well-made Camembert instead so that your Camembert sauce has more character. It can also accompany chicken. Camembert sauce to change from classic sauces.
Recipe ingredients
Camembert sauce recipe for 4 people:
1 shallot
30g butter
80 g of Camembert
20 g smoked bacon
10 cl of white wine
2 tablespoons of parmesan
1 teaspoon of soy sauce
Instructions
Peel then finely chop the shallot
Cut a small strip of smoked bacon.
Cut it into strips and then into small cubes.
Sear the shallots with the pork belly.
Pour in the wine and let reduce.
Add the Camembert and roast it in the butter.
Stir so as not to burn the cheese at the bottom of the pan.
Pour in the cream and incorporate it into the melted cheese.
Add the Parmesan then stir.
Add the soy sauce.
Reduce a little, the sauce should be smooth.
Preparation time: 10 minutes
Cooking time: 0 minutes
Number of people: 4
4 star rating: 1 review
What wine to drink with: Camembert sauce
My favorite wine for this recipe: Saumur blanc Cépage Chenin blanc; Chardonnay; Sauvignon franc
Temperature between 08 ° and 10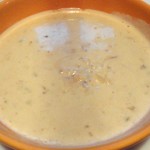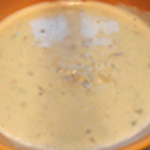 Zoom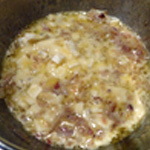 Melted cheese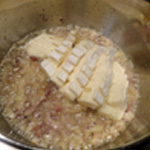 Melt the cheese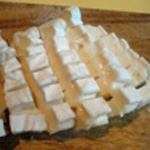 Cut into cube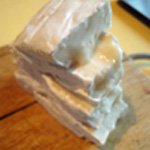 Cut into strips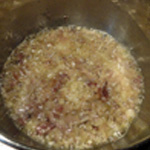 Grab the chest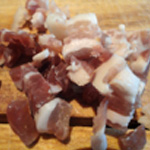 Cut into cube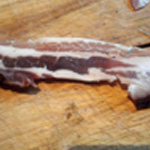 Air band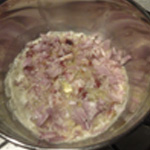 Seize the shallots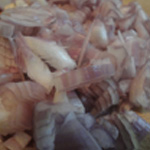 Slice the shallots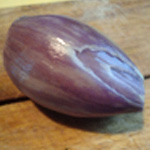 Peel the shallots