Cancoillotte omelet recipe
A quick and easy recipe to make with this cancoillotte omelet, well I admit that I cook a lot with cancoillotte, but I bought a kilo of cancoillotte in my hypermarket on a rather short date, but we love it at home . With the cancoillotte, the texture of the cancoillotte omelet is changed, with this cheese it becomes smoother and smoother, you will like this little taste of garlic that comes at the end. We eat a lot of eggs at home, Léonie loves them and especially omelets, on the other hand we like the runny omelette, cooking is important here. Of course if you are lucky enough to find eggs from the farm, it will further increase the quality and especially its flavor. Be careful, the cancoillotte melts quickly, so put it a few minutes before the end of cooking.
Cancoillotte omelet recipe for 2 people:
Ingredients
230 g cooked potatoes
4 tablespoons of garlic cancoillotte
1 large tablespoon of olive oil
90 g smoked bacon
6 eggs
Instructions
Heat a pan with olive oil.
Cut the potatoes into small slices
Throw the potatoes into the hot oil and let brown well.
Turn the potatoes so that they are golden brown on all sides, add the bacon.
Break the eggs into a bowl, salt.
Barely beat the eggs, the white should show a little more, just for fun.
Pepper generously with the mill.
Pour over the hot potatoes.
Add the cancoillotte, let melt for one to two minutes.
Serve the omelet piping hot.
Preparation time: 10 minutes
Cooking time: a few minutes
Number of people: 2
4 star rating: 1 review
What wine to drink with: Cancoillotte omelette
My favorite wine for this recipe Arbois Trousseau Grape varieties: Poulsard, Trousseau, Pinot noir
Temperature between 11 ° and 13 °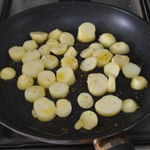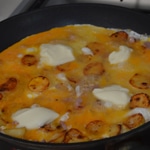 Add the cancoillotte