Recipe for candied tomatoes in slices
I particularly like these candied tomatoes to spread on a large slice of toasted country bread. You can play with the balsamic vinegar by adding more or less, but beware the cooking will flavor over time. Candied tomato spread, I really liked the small pieces of flesh still attached to the skin. When I gave my father a taste he thought of cherries. I will do this recipe again, which cooks gently under low heat. Of course, do not forget to stir regularly, otherwise the candied tomatoes in slices will stain the bottom of the pan. To accompany my recipe for candied tomatoes, I selected a Sauvignon from the Corbière region. A wine matured in the domain of the castle of Mattes-Sabran in this beautiful region of Mattes, it is identified II centuries before our era, introduced by the Greeks, then it was the Romans who developed this culture and educated our Gauls.
Recipe for candied tomatoes for 6 people:
Ingredients :
2 large ripe tomatoes
1 tablespoon of heavy cream
50 g sugar
2 cloves garlic
2 shallots
10 cl of wine vinegar
10 cl of balsamic vinegar
100 g of country loaf bread
Instructions
Rinse the tomatoes under cold water.
Cut in half, seed, then roughly crush them with a knife.
Peel then finely chop the shallots and garlic.
Place the tomatoes in a saucepan with the chopped shallots and garlic.
Add the sugar and vinegars.
Salt and pepper.
Preparation time: 10 minutes
Cooking time: 60 minutes
Number of people: 6
4 star rating: 1reviews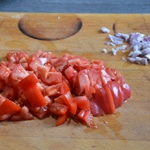 Cut the tomatoes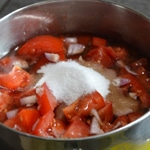 Cook the tomatoes
What wine to drink with: Candied tomatoes toast
My favorite wine for this Côtières de Nîmes recipe Grape varieties: Carrignan, cinsault, Grenache noir
Temperature between 15 ° and 16 °
Partnership with the Château de Mattes –Sabran in Portel dans l'Aube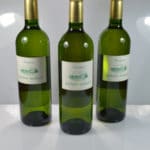 Bottles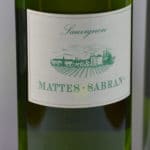 Zoom
A thought to all those connected from France or abroad in love with French cuisine and these wines, here is a great opportunity for you to buy a quality wine, without any risk, to accompany my recipe for candied tomatoes in toast. I selected this Corbières Sauvignon wine from the Château de Mattes-Sabran estate after tasting it, I loved it.
Sauvignon, The Gold Medal 2013.
Coming from an old plot planted in 1991, it is drunk around 08 ° and will improve over the years, Mr Brouillat, advises us between 5 to 10 years, of course I will keep a bottle to taste it in 2023. This wine surprises on the palate with its freshness with some aromas of pink grapefruit and lemon.
Mattes Sabran Castle
Mr and Mrs Brouillat Arnaud
11490 Portel
Chateau de Mattes-Sabran
Recipe source: Saveur magazine