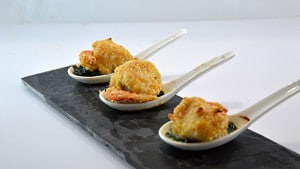 Recipe: Saint Jacques and hazelnuts
Recipe for scallops and hazelnuts, I've been wanting to bread walnuts and oysters for some time now, so I chose to bake them for this time. But I will renew with cooking in oil, to have a crispier crust while respecting the cooking of the Saint Jacques. We loved these scallops and hazelnuts placed on this bed of fresh spinach still barely crunchy. At home the Saint Jacques we are crazy about it, it is an end-of-year promotion that allowed us to have fun with these queens of the seas, cold, raw or cooked. We crack every time and it is not the Saint Jacques and hazelnuts that will make us lie.
Recipe ingredients
Recipe of scallops and hazelnuts for 3:
6 beautiful scallops
300 gr of fresh spinach
30 gr of butter
1 clove of garlic
1 spoonful of bread crumbs
1 teaspoon of hazelnut powder
1 egg
Salt and pepper
Instructions
Rinse the spinach under the tap.
Peel and finely chop the garlic.
Heat a pan with the butter.
Sear the garlic.
Add the spinach to the hot pan and stir constantly.
Stop cooking as soon as the spinach has rejected all of its water.
Place a knob of spinach in each porcelain spoon.
Mix the breadcrumbs.
Crack the egg and beat it well, salt and pepper.
Roll the nuts in the egg.
Then pass the walnuts in the breadcrumbs.
Gently place the nuts on each spoon.
Place in a hot 220 ° grill oven for 5 minutes.
Preparation time: 15 minutes
Cooking time: 5 minutes
Number of people: 3
4 star rating: 1 review
What wine to drink with: Saint Jacques and hazelnuts
My favorite wine for this recipe: Muscadet Blanc Loire Valley Melon de Bourgogne grape (Muscadet)
Temperature between 08 ° and 10 °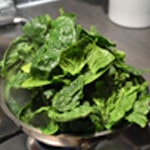 Rinse the spinach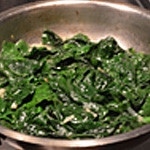 Sear the spinach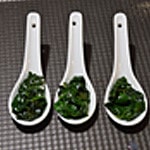 Place the spinach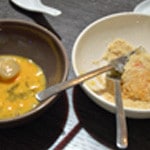 Bread the scallops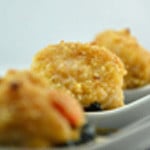 Zoom