Saint Augune cannelé recipe.
Instructions
The sausage of Saint Agaune is a fat-free sausage, very lean to prepare a different aperitif. The savory cannelés are quick to prepare and easy to eat at high speed. For this recipe I made salted mini cannelés made from Comté and Saint Agaune. Savory cannelés easy recipe for an aperitif outside, we took advantage of some rays of sun at noon. One more Comté recipe, I love this cheese from my region, it takes on a beautiful color and perfectly gratinates all dishes. A frank Comté AOC cheese from Haut Doubs, the Comté is good raw or cooked, we always have it in our refrigerator. Take your county out at least an hour before consuming it
Ingredients
Cannelés recipe with Saint Agaune sausage for 36 mini cannelés
50 gr of Saint Agaune sausage
65gr of parmesan
25 cl of milk
50 gr of flour
30 gr of butter
1 egg
1 egg yolk
Instructions
Pour the milk into a saucepan, salt and pepper then add the butter and bring to the boil.
In a bowl, beat the egg and egg yolk.
Add the flour to the eggs and mix.
Pour the milk in several times and mix.
Mix everything.
Add the sausage cut into small pieces.
Sprinkle with Parmesan then incorporate it into the preparation
Pour the dough into the cannelé molds, filling to ¾ and place in a hot oven at 200 ° for 45 minutes.
Preparation time: 30 minutes
Cooking time: 45 minutes
Number of people: 33 mini cannelés
4 star rating: 1 review
What wine to drink with the cannelés au sacison de Saint Agaune?
My favorite wine for this Rosé d'Anjoue recipe Grape variety: Cabernet Franc; Cabernet Sauvignon
Temperature between 10 ° and 12 °
thanks to Thibaut for the pictures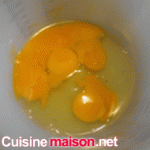 Break the eggs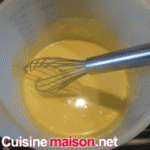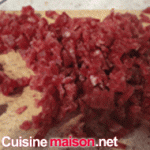 Cut the St Agaune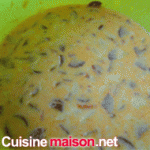 To mix together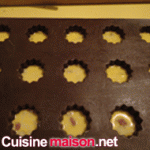 Pour without filling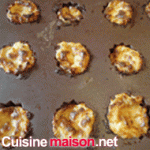 Cannelés cooked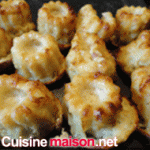 Mini cannelés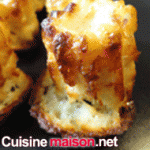 Zoom