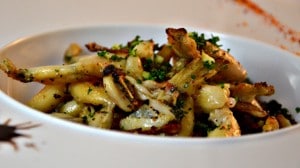 Recipe: Frog legs in parsley
Recipe for frogs' legs in parsley for the arrival of spring at home, they are crazy about it. Cooking fresh frog legs with parsley, so of course you are lucky to be able to have fresh ones. A parsley frog legs recipe for fun, no crème fraîche for this recipe. Fresh frog legs or frozen frog legs, each will do according to their financial possibilities, but today we find beautiful frozen legs.
Recipe ingredients
Recipe Frog legs in parsley for 4 people
4 dozen fresh frog legs
10 dl of milk
2 tablespoons of flour
1 bunch of parsley
4 cloves of garlic
2 tablespoons of olive oil
40g butter
Instructions
Wash and hull the parsley.
Peel the garlic.
Finely chop the parsley with the garlic.
Garnish the frogs' legs.
Make a small incision in one of the thighs using the tip of a knife.
Insert the other thigh into the incision to cross the legs.
Pass the frogs' legs in the milk then
Flour the thighs, distributing the flour well.
Shake the thighs to remove excess flour
Pour olive oil into a sauté pan and sear the frogs' legs for a few minutes.
Lower the heat and add the butter then let the thighs color.
Add the parsley and leave to grill a little
Salt and pepper.
Preparation time: 30 minutes
Cooking time: 30 minute (s)
Number of people: 4
5 star rating: 1 review
What wine to drink with: Frog leg in parsley
My favorite wine for this Saint Joseph white recipe Grape variety: Roussane and Marsanne
Temperature between 12 ° and 15 °