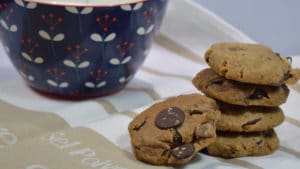 Dark Chocolate and Milk Chocolate Chip Cookies Recipe
Small cakes, from the Americas, reserved for big fans of chocolate, a marvel for these cookies with dark chocolate and milk chocolate chips, you will love to bite into these little chips that resist a bit to the bite. I really like their flavors, but I love each nugget, I am like my daughter, I always find that there is not enough… I also like them after a few days, but frankly with us it is not not possible, they never have time to get a little dry, well I could make 72 of them by doubling my recipe, but then the kilos… It is often the cake that you will have at home, if you can manage it. 'improvist. I was in charge of organizing a birthday party for my friend Carine's daughter, Clémentine; with his smile… impossible to resist him. Here I am in a class with 12 mini women, each more noisy than the other, what a moment of happiness and we tested the caramel cookies, but that's for another recipe. Shhh… ..
Dark chocolate and milk chocolate chip cookies recipe for 36 cookies:
Ingredients :
500 g of flour
8 g of fine salt
8 g of sodium bicarbonate
100 g butter
63 g peanut butter
170 g of caster sugar
170 g of vergeoise sugar
2 eggs (125 g)
5 g vanilla extract
140 g of dark chocolate chips
140 g of milk chocolate chips
Instructions
Preheat the oven to 170 °
Sift together the flour and sugar.
Add salt and baking soda to the sifted flour.
Add the peanut butter, butter and vanilla extract.
Crack the eggs over the mixture in the mixer bowl.
Mix the preparation with a mixer for 5 minutes.
Stir in the chocolate chips and just turn the mixer around.
Take parts of the equivalent of a tablespoon of preparation.
Form a ball like plasticine, tamp a little in your hand.
Roll the preparations in your hands to squeeze them well.
Place the balls on a baking sheet covered with a sheet of parchment paper.
Leave a space of 2 cm between each cookie ball.
Flatten the balls with the palm of your hand, use the hollow, they will just barely be rounded.
Bake for 14 minutes in the oven in the middle position.
Let cool well before touching them, because they are very fragile when taken out of the oven.
Preparation time: 30 minutes
Cooking time: 14 minutes
Number of people: 36 cookies
4 star rating: 1 review
What wine to drink with: Dark chocolate and milk chocolate chip cookies
My favorite wine for this recipe: Rivesaltes red Grape Grenache
Temperature between 15 ° and 16 °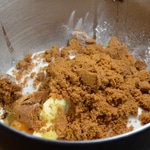 Mix the ingredients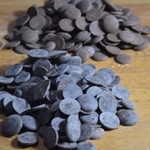 Chocolates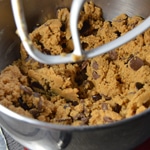 Add the nuggets
Form balls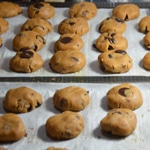 Flatten