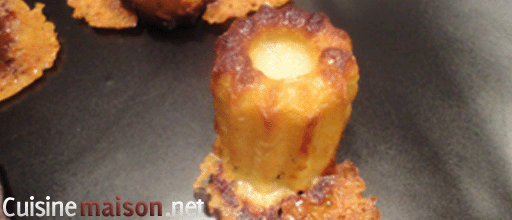 Cannelé recipe with Comté cheese and Morteau sausage
Summary : Recipe for cannelé with Comté and Morteau sausage, ideal for an aperitif for the end of the year celebrations, an old recipe that I put back at the mercy of the day by passing it in micro format. We love the savory Cannelé to the detriment of the sweet cannelé. Recipe mini savory cannelés I will serve it with a savagnin blanc, a typical white in the Jura, often adored by amateurs and hated by girls. A recipe for savory cannelés quite easy to make and today with the silicone imprints all amateurs are equipped, I would like to have small copper molds as before to make my Mini cannelé for the aperitif. As a good Comtois Franc, I particularly like the combination of Morteau sausage and the Comté, I would even choose an old, well-salted Comté for this recipe.
Recipe Cannelé with Comté cheese and Morteau sausage for 6 people
Ingredients :
100 gr of Morteau Sausage
130gr of Comté
50 cl of milk
100 gr of flour
60 gr of butter
1 egg
1 egg yolk
Instructions
Pour the milk into a saucepan,
Salt and pepper
Add the butter and let it boil.
Beat the egg and egg yolk in a bowl.
Add the flour to the eggs and mix.
Pour the milk in several times and mix.
Mix everything.
Add the sausage cut into small pieces and the grated Comté, mix to incorporate the Comté well.
Pour the dough into the cannelé molds and put in a hot oven at 200 ° for 45 minutes.
Preparation time: 30 minutes
Cooking time: 45 minutes
Number of people: 6
4 star rating: 1 review
What wine to drink with: Cannelé au Comté and Morteau sausage
My favorite wine for this Crémant du Jura Grape variety: Savagnin blanc et chardonnay
Temperature between 8 ° and 9 °