Recipe: Panna cotta Maroilles and Morteau
Maroilles et Morteau panna cotta recipe, of course you understand that this panna cotta was in the spotlight with the wedding of Mélanie and Stéphane. The king of cheeses in northern France, Maroilles, with the queen of sausage in eastern France, Morteau. Isn't it a beautiful wedding! The maroilles here is still slightly sweetened with the panna cotta, but it divinely perfumes the cream and will not leave anyone indifferent. In any case, they did not resist the onslaught of the buffet. I like this cheese that I really tasted for the first time thanks to Stéphane, thank you my friend.
Recipe ingredients
Maroilles and Morteau panna cotta recipe for 6 verrines:
250 cl of liquid cream
250 gr of maroilles
1/2 nutmeg
1 Morteau sausage
1 teaspoon of pine nuts
1 gr of agar agar
Instructions
Heat the cream.
Grate ½ nutmeg over the cream.
Add the agar agar to the first broth, then whisk.
Pepper generously.
Add the maroilles cut into small cubes.
Let cool a bit.
Pour into the verrines.
Place in the refrigerator overnight.
Cook the Morteau sausage for 20 minutes at a low simmer.
Cut the Morteau sausage into fairly thin slices.
Place a slice in each verrine.
Preparation time: 15 minutes
Cooking time: 20 minutes
Number of people: 6
4 star rating: 1 review
What wine to drink with: panna cotta Maroilles et Morteau
My favorite wine for this recipe: Arbois Pupillin blanc grape Chardonnay, Sauvignon, Pinot blanc
Temperature between 08 ° and 10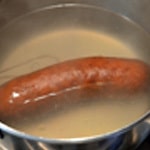 Cook the sausage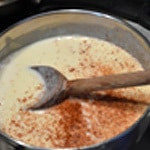 Heat the cream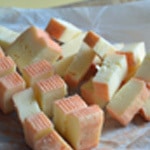 Slice the Maroilles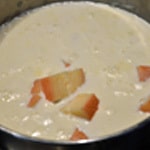 Melt the Maroilles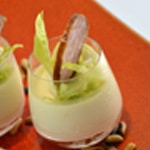 Zoom