Recipe: Caramel flan
Recipe for Caramel flan a cream that is turned over to have the caramel on the flan. Caramel flan an easy recipe to make, for a dessert that always pleases. A spilled cream for Valentine's Day, here it is in a heart-shaped mold, a caramel flan with a shape for Valentine's Day. A crème caramel served chilled, just a little sweet and flavored with vanilla, a dessert that appeals to children and adults alike. Caramel flan a very simple dessert.
Recipe ingredients
Caramel flan recipe for 6 to 8 people:
6 whole eggs
2 egg yolks
1 liter of raw milk
125 g sugar
20 sugars
1 vanilla sugar
Instructions
Wet two sugars and place with the other sugars in the soldier mold
Heat the mold under medium heat to make a caramel, your wooden spoon must always be moving.
Break and beat the eggs into an omelet.
Add the milk and vanilla sugar.
Pour this device into your soldier mold, but only when your caramel is cold.
Place in a hot oven at the start of a cold bain-marie 200 ° for 35 minutes, to be monitored.
Preparation time: 30 minutes
Cooking time: 35 minutes
Number of people: 8
4 star rating: 1 review
What wine to drink with Caramel Flan
My favorite wine for this Coteaux du layon recipe Grape variety: Chenin blanc
Temperature between 7 ° and 8 °
Thank you to Rosabel de Vesoul store for its dishes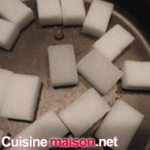 Moisten 2 sugars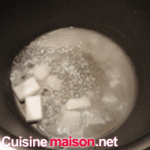 On low heat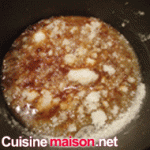 Burnished caramel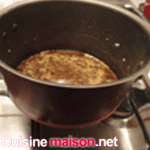 Let cool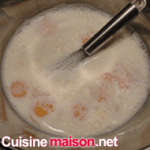 To beat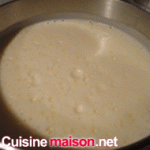 Ready cream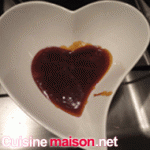 Pour the caramel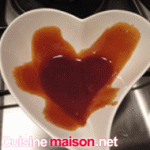 Spread the caramel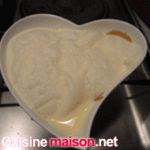 Fill the mold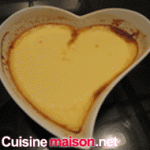 Caramel custard custard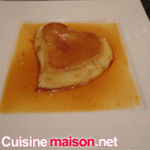 Little heart