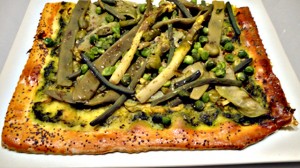 Recipe: Pizza primavera
Primavera pizza recipe, a pizza full of fresh seasonal vegetables, a real treat for vegetable lovers, it was as beautiful as it was good. The abundant vegetables in the markets is the time to eat them very fresh, with this pizza children will devour them to the fullest. Pizza is often Friday evening, always homemade pizzas, never the same, we like to change and vary with seasonal products. Pizza will be a hymn of honor to this long-overdue spring.
Recipe ingredients
Recipe for 3 people: Pizza primavera
2 tablespoons of wild garlic pesto
1 leek
6 green asparagus
150 g peas
100 g green beans
100 g of mange-tout
100 g broad beans
1 tablespoon of olive oil
Instructions
Rinse the green beans.
Shell the peas and broad beans.
Remove the threads from the green beans and snow peas.
Finely slice the leek.
Peel the asparagus ¾.
Cook the asparagus in a large volume of salted water.
Add the snacks after 5 minutes.
Add the beans after 8 minutes.
Rinse with cold water to fix the chlorophyll.
Cook the peas and green beans for 10 minutes in a volume of salted water.
Rinse with cold water to fix the chlorophyll.
Cut the green asparagus to the same length, keeping the tip and 5 cm.
Mix the rest of the asparagus with the wild garlic pesto.
Roll out the pizza dough.
Place the asparagus pesto sauce on the pizza dough.
Scatter the leeks regularly.
Pour olive oil over the leeks.
Pre-cook the pizza for 20 minutes in a hot oven at 210 °.
Add the leftover vegetables to the precooked pizza.
Drizzle generously with an olive
Place in a hot oven for another 10 minutes.
Preparation time: 30 minutes
Cooking time: 30 minutes
Number of people: 3
4 star rating: 1 review
What wine to drink with: Pizza primavera
My favorite wine for this recipe: Côte de Provence rosé Grape Cinsault, Grenache noir, Syrah
Temperature between 08 ° and 10 °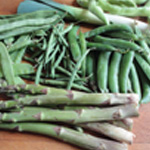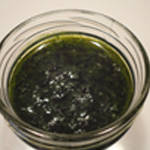 Wild garlic pesto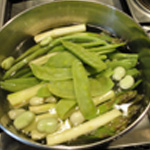 Cook the vegetables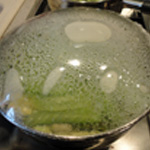 Steamed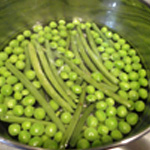 Cook the peas and beans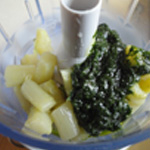 Mix asparagus and pesto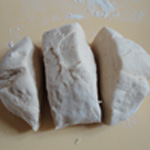 Cut the dough in three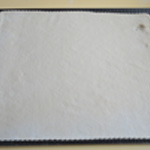 Roll out the dough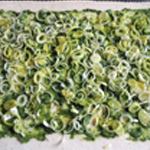 Leeks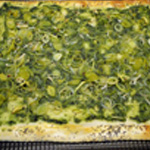 Add the wild garlic pesto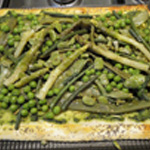 Add the asparagus and peas
Zoom<img src="/wp-content/uploads/2021/09/6057502635738920262.jpg" class="aligncenter"