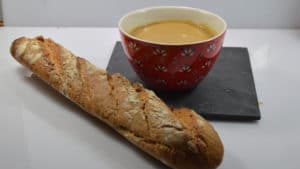 Langoustine cream recipe
One of my favorite soups, I like cooking it almost as much as tasting it, these sea ladies are so tasty that they divinely perfume this langoustine cream. No loss with langoustines, the shells are perfect for this kind of soup (remember to freeze the shells when you have fresh langoustines). You can take them out when you are making soups and indulge yourself with this scampi cream. Of course I will repeat myself but immediately a big thought for Corine my sister who lived in La Turballe in the Baie du Croisic, country of langoustine, with these langoustine evenings where we only ate that for the evening. Just washed down with a Charentes blanc and presto !! right in the region, you will love this scampi cream.
Langoustine cream recipe for: 6 people
Ingredients :
1 kg of langoustines.
1 onion
1 teaspoon of Harissa
2 cloves garlic
25 cl of dry white
5 cl of Pineau des Charentes
15 cl of liquid cream
1 tablespoon of tomato paste
10 sprigs of parsley
10 sprigs of coriander
Instructions
Preheat the oven to 250 °
Wash the coriander and parsley, then roughly crush them with a knife (stems and leaves).
Destroy the langoustines.
Grill the carcasses in the oven for 15 minutes without burning them.
Sprinkle them out of the oven with the Pineau, then flambé.
Peel the onion and garlic, then roughly chop them.
Sear the onion and garlic in the hot oil.
Add harissa and tomato paste.
Add the parsley and cilantro.
Add the Espelette pepper at the end and sear for 1 minute, the pepper thus exhales its fragrance.
Add the bodies of the langoustines, mix with a wooden spoon.
Deglaze with the white wine, then cover widely with water.
Reduce the broth by half, until the desired amount is obtained.
The more the broth reduced, the more your soup will taste.
Cream your soup, but you don't have to… it's up to you.
I love this soup, it is divine, so tasty !! I particularly like to let it reduce and present it in small quantities but concentrated.
Preparation time: 60 minutes
Cooking time: 120 minutes
Number of people: 10
4 star rating: 1 review
What wine to drink with: langoustine cream
My favorite wine for this recipe: Blanc des Charentes Grapes No idea
Temperature between 08 ° and 10 °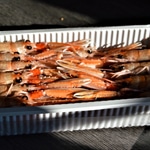 Defrost the langoustines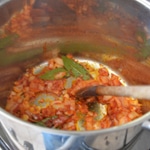 Reduce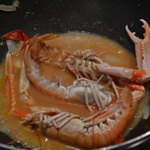 Cook the langoustines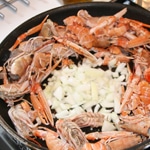 Let it reduce well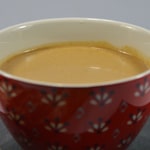 Zoom