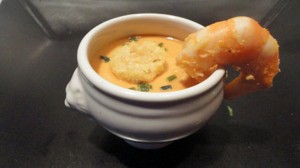 Recipe: Shrimp bisque
Shrimp bisque recipe, I used Fresh Shrimp for this recipe. Much simpler than a fish soup with so much more wonderful taste this shrimp bisque will go very well to start a big meal. Shrimp bisque for holiday meals, here is my inexpensive appetizer.
Recipe ingredients
Recipe of: Shrimp bisque for 15 people
835 g of prawns
1 bottle of Savagnin du Jura
2 carrots
2 onions
80 g butter
25 cl of liquid cream
2 tablespoons of olive oil
1 can of peeled tomato
1 small dab of harissa
1 knife tip of ground cloves
1 knife tip of ground coriander
½ teaspoon ground nutmeg
Instructions
Peel the carrots and onions.
Cut them into small cubes.
Remove the shrimps and set aside.
Melt 40 g of butter in a Dutch oven.
Brown the vegetables cut into cubes.
Add the shrimp heads and the spices.
Pour in the white, as soon as the shrimp heads have taken on color.
Simmer for 50 minutes, then turn off the heat.
Crush the shrimp heads with a rolling pin like a mortar.
Mix with the soup processor
Filter with a Chinese.
Reserve one shrimp per person.
Add the rest of the shrimp to the soup
Mix the filtered preparation with the shrimps.
Raise the temperature slowly.
Add the cream to your liking.
Salt and pepper.
Serve very hot.
Preparation time: 10 minutes
Cooking time: 50 minutes
Number of people: 15
4 star rating: 1 review
What wine to drink with: Shrimp Bisque
My favorite wine for this recipe: Savagnin du Jura blanc Grape Chardonnay, Pinot blanc, Savagnin blanc
Temperature between 10 ° and 12 °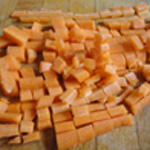 Cut the carrots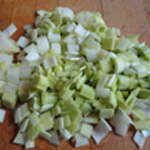 Cut the leeks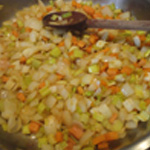 Sear the vegetables
Shrimp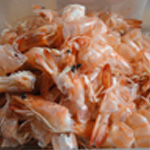 Seize the shells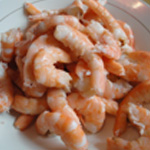 The shrimp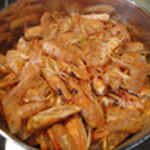 Wet with wine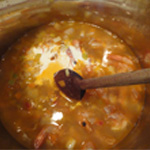 Let reduce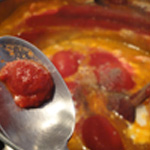 Harissa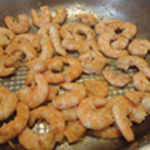 Heat the prawns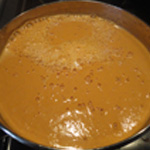 Mixer