<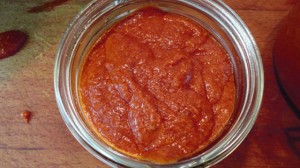 Recipe: Tomato pesto
Tomato pesto to accompany your pasta, with its flavor and color you embellish your meal, the pasta will be full of sauce. Dried tomato pesto, always much more flavor, than with fresh tomatoes and of course to be made all year round. Tomato pesto to be enjoyed cold on hot pasta. The red tomato pesto, playing with the vegetables and the colors, you can easily keep them for months in your refrigerator, that's why I never put the cheese.
Recipe ingredients
Recipe for 1 liter of pesto
500 g of sundried tomatoes, to make your sundried tomatoes.
8 gr of salt
200 g pine nuts
200 gr of parmesan
75 cl of olive oil
80 gr of garlic or more
1 teaspoon of Espelette pepper
1 teaspoon of sweet paprika
Instructions
Toast the pine nuts in a hot pan without fat, stir the pan constantly.
Put the peeled garlic in the blender with the pine nuts and salt, the mixed tomatoes then add oil gradually.
Add the Parmesan at the end if you want to taste it within two weeks.
To keep it for several weeks the pesto do not add Parmesan.
Preparation time: 30 minutes
Cooking time: 0 minutes
Number of people: 1 liter of pesto
4 star rating: 1 review
What wine to drink with: tomato pesto
You will choose a wine according to what you are going to serve with the pesto, pasta, poultry, rice….