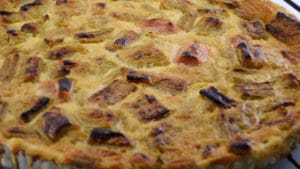 Caramelized Rhubarb Pie Recipe
A beautiful rhubarb pie, it is so generous in gardens, people often run out of ideas with this so natural product. I particularly like its acidity but also its sweetness when cooked in a pan with a little sugar and prepared with sour cream. A beautiful dessert with this caramelized rhubarb pie that we shared with the family, my son loves it. It appeared in Europe from the 17th century, and in France from the 19th century thanks to the English who still cultivate it in abundance today. In some countries it is even accommodated in salty, I will present a recipe to you later. I chose a Crémant d'Alsace to accompany my caramelized rhubarb tart.
Caramelized rhubarb pie recipe for 8 people:
Ingredients :
750 g rhubarb
50 g of sugar (for the rhubarb more or less according to taste)
50 g butter
50 g of brown sugar
25 cl liter of cream
1 egg
1 roll of puff pastry
Instructions
Preheat the convection oven to 180 °.
Unroll the puff pastry in the pie dish.
Prick the bottom with a fork.
Peel the rhubarb, taking care to remove all the threads.
Cut the rhubarb into cubes.
Heat a pan with the rhubarb and sugar.
Cook over low heat so that the rhubarb compotes but keeps a few pieces.
Let the compote cool.
Mix the cream with the rhubarb preparation.
Crack the egg and incorporate it well into the appliance.
Pour the appliance over the tart shell.
Sprinkle with the brown sugar.
Bake in the hot oven 30 to 40 minutes at the bottom of the oven.
Enjoy the tart warm.
Preparation time: 30 minutes
Cooking time: 30 to 40 minutes
Number of people: 8
4 star rating: 1 review
What wine to drink with: Caramelized rhubarb pie
My favorite wine for this recipe: Crémant d'Alsace, Pinot blanc, Auxerrois, Pinot gris
Temperature between 06 ° and 08 °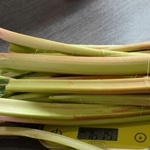 Peel the rhubarb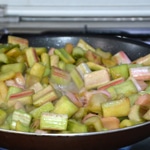 Rhubarb compote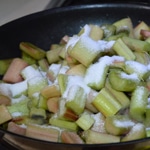 Cook the rhubarb in the sugar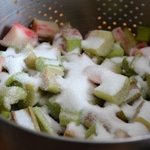 Disgorged the rhubarb with sugar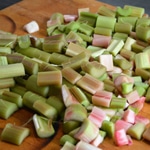 Cut the rhubarb