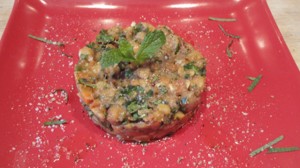 Recipe: Chickpea salad
Chickpea salad recipe for a picnic, we had a day outside and the weather was nice. Salads, always welcome with the sun which is finally announced, for this chickpea recipe I left them overnight in water, if you are in a hurry use chickpeas cooked in a box. recipes from Morocco that inspired me for this chickpea salad.
Recipe ingredients
Recipe Chickpea salad for 4 people:
200 g of chickpeas
2 carrots
2 bay leaves
1 bunch of flat-leaf parsley
1 bunch of mint
1 onion 3 cloves of garlic
1 teaspoon of cumin
1 teaspoon of mustard
1 lime
4 tablespoons of olive oil
Instructions
Let the chickpeas soak from the day before.
Drain the chickpeas the next day. Peel the garlic and onion, then chop them finely.
Brown them in a saucepan with olive oil and cumin.
Add the chickpeas, cover with water, cook for 1 hour to 1 hour and a half (there should be no more liquid). Rinse the mint in clean water, then dry it with paper towels.
Finely chop it with the parsley.
Add half the mint and the chickpeas.
Pour in the rest of the olive oil, mustard and lime juice.
Taste, salt and pepper. Fill the circles with chickpeas. Finish with the rest of the chopped mint.
Preparation time: 20 minutes
Cooking time: 60 minutes
Number of people: 4
4 star rating: 1 review
What wine to drink with: Chickpea salad
My favorite wine for this Sidi Brahim recipe: Carignan grape; Grenache noir; Alicante Bouschet
Temperature between 15 ° and 17 °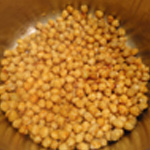 Soak the chickpeas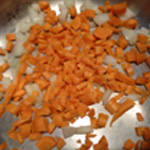 Cut the carrots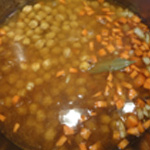 To cook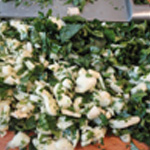 Cut the onions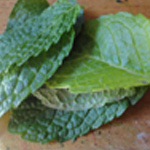 Mint leaf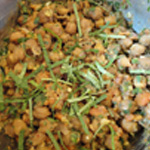 Add the herbs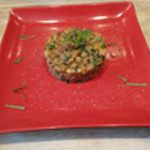 Plate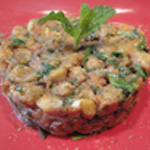 Zoom