Carrot and onion recipe
A dish for an evening, my son wants to eat vegetables in the evening yes! After the pasta gratins with cream and cheese. I admit that having a cooking blog, the meals are always quite rich. I'm going to have to focus on this problem a bit, so, I promise I'll bring you a few more light recipes. In any case, we appreciated these carrots with onions, slightly flavored with cumin and 4 spices, I had accompanied them with a great ham on the bone from the farm, super tasty, slightly salted. Of course, gourmets can add a little cream to the carrots with onions, but in this case you will lose the notion of light, but also you will have the possibility of putting the cream directly on the table and everyone, according to their desires, will play more or less with the cream… ..
Carrot and onion recipe for 4 people:
Ingredients
800 g carrots
2 onions
2 tablespoons of olive oil
2 cloves garlic
1 tablespoon of cumin seeds
1 teaspoon of 4 spices
Instructions
Peel the onions and garlic
Slice the onions in half and then in half again.
Cut the quarters in width of 5 mm.
Sear the onions in a Works with a spoonful of olive oil, without letting them color.
Reserve the onions;
Finely chop the garlic, then sear it with a spoon of olive oil.
Peel the carrots and slice them thinly.
Pour the carrots into the wok.
Add the spices, salt and pepper.
Cover with water and cook over low heat for 15 minutes.
Preparation time: 10 minutes
Cooking time: 15 minutes
Number of people: 4
4 star rating: 1 review
What wine to drink with: Carrots with onions
My favorite wine for this recipe: Saint Nicolas de Bourgueil Grape variety cabernet franc and Sauvignon
Temperature between 16 ° and 17 °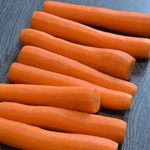 Peel the carrots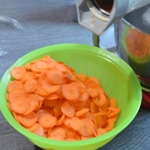 Slice the carrots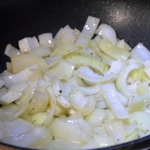 Sear the onions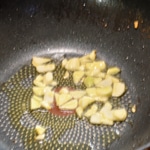 Sear the garlic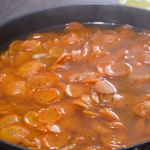 Wet the carrots