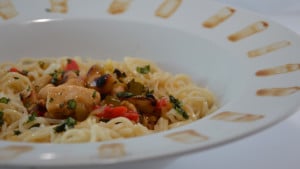 Recipe: Chicken with Cajun Nuts
Chicken recipe with cashew nuts, a deliciously flavored Asian recipe. I served this chicken with Chinese pasta, it was divinely flavored and we really enjoyed ourselves. The cashews that I had dry roasted were tender, they brought a new flavor to the chicken which melted in the mouth while keeping a little firmness. It was a first test, I was inspired by a recipe seen on fr3 by Anna Alassane. I presented my cashew chicken with Chinese noodles, we ate them with chopsticks, of course.
Recipe ingredients
Chicken recipe with cashew nuts for 6 people:
500 gr of chicken fillet
150 gr of plain cashew nuts
1 large red pepper
3 small onions
1 tablespoon of olive oil
15 cl of liquid cream
2 tablespoons of oyster sauce
1 tablespoon of soy sauce
Salt and pepper
Instructions
Dry roast the cashews in the wok.
Rinse and slice the pepper into small cubes, removing all seeds.
Peel then finely chop the onions.
Add a spoon of olive oil to the hot wok.
Sear the onions without letting them color.
Add the peppers.
Cut the chicken into cubes.
Flour the chicken
Sear the chicken in the vegetables.
Add the oyster and soy sauces.
Pour in the cashews.
Cover with water and cook for ten minutes.
Finely chop the basil and sprinkle over the meat just before serving.
Preparation time: 15 minutes
Cooking time: 15 minutes
Number of people: 6
4 star rating: 1 review
What wine to drink with: Cashew Chicken
My favorite wine for this recipe: Pinot noir Grape Alsace
Temperature between 08 ° and 12 °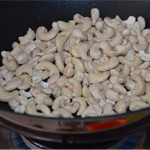 Roast the nuts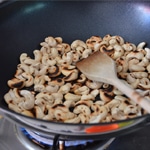 Don't let them burn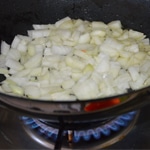 Sear the onions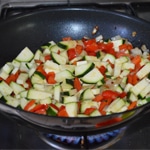 Add the zucchini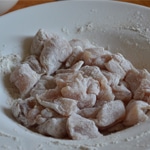 Singer the chicken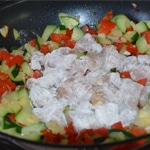 Add the chicken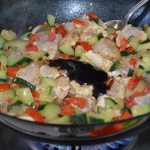 Add the oyster sauce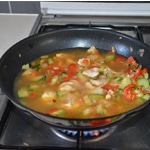 Cover with water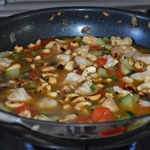 Add the cajun nuts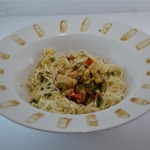 Ready to taste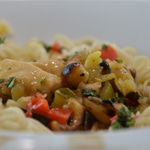 Zoom