Garlic Filet Mignon Recipe
I am in the Doubs with my friends Florence and Yves, and as usual, Yves works in his store to clear up the sight of all his customers and we take care of preparing the feasts in order to restore our lord when he returns from his professional occupations. What's great about my friend is that she's like me, always ready, for a new dining experience. Here is the birth of our Filet mignon with wild garlic. Of course, everyone has their own knowledge above the black casserole dish, but it is always Florence who has the last word (well… after all… she is also at home). But I rebel when she wants to confine me to photos… No, but! As you can see, we took great pleasure in making this Filet mignon with bear garlic. I really liked the sauce of this Filet mignon with wild garlic, slightly flavored with barely lemony wild garlic, then comes the scent of alcohol. This is almost a Franc-Comtois dish, the pork was from the region with wild garlic and of course the Pontarlier anise which is the pride of Haut Doubs.
Garlic Filet mignon recipe for 8 people
Ingredients
2 Pork tenderloins
1 teaspoon of caraway
10 cl of white wine
7 cl of Pontarlier anise (or another alcohol)
50 Wild garlic leaves (small shoots)
1 tablespoon of olive oil
1 teaspoon of sauceline
Salt and pepper
Instructions
Rinse and dry the wild garlic leaves.
Heat the cast iron casserole dish with the olive oil.
Crush the caraway with a mortar during this time.
Brown the fillets on all sides.
Season generously with salt and pepper and add the caraway.
Heat the alcohol, then flambé the fillets outside the hood.
Pour in the white wine as soon as there are no more flames and add 10cl of water.
Place the wild garlic leaves between the fillets.
Simmer for 30 minutes with the lid on.
Reserve the fillets, wrapped in aluminum foil.
Heat harder to evaporate some moisture.
Bind the sauce with the sauceline.
Preparation time: 10 minutes (plus time for wild garlic)
Cooking time: 30 minutes
Number of people: 8
4 star rating: 1 review
What wine to drink with: Recipe Filet mignon with wild garlic
My favorite wine for this recipe Moselle white wine Grape varieties: Auxérois
Temperature between 08 ° and 12 °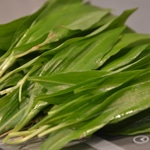 Wash the wild garlic leaves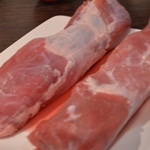 Trim the filet mignon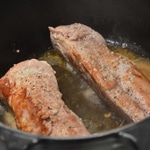 Sear the filet mignon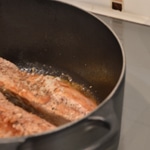 Turn the tenderloin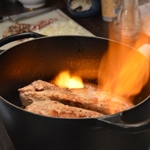 Flambé the filet mignon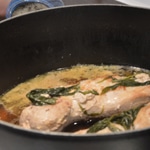 Let it be for now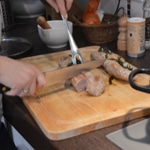 Slice the filet mignon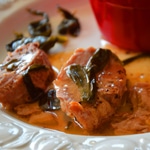 Zoom