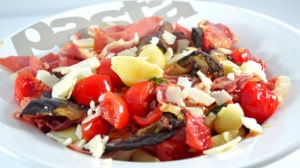 Recipe: Castellane with eggplant
Castellane with aubergines, I love to combine pasta and vegetables, especially those from the south, particularly in a little olive oil. Here it is the eggplants which are in the spotlight, I always have some in my freezer, they are sliced and grilled, rather practical to organize an unforeseen meal. A colorful and tasty pasta dish, thank you Barilla for this wonderful collection of dry pasta, I can't do without it.
Recipe ingredients
Castellane recipe with eggplants for 4 people:
400 of dry Castellane
400 g sliced grilled eggplant (frozen)
100 g of raw ham
20 cherry tomatoes
20 basil leaves
4 cloves of garlic
2 tablespoons of olive oil
1 large piece of Parmesan.
Instructions
Cook the pasta in a large volume of water, drain them as soon as they are cooked and keep warm.
Thinly slice the raw ham.
Peel the garlic, then finely chop.
Cut the cherry tomatoes in half.
Cut the eggplant slices into strips.
Finely chop the basil leaves.
Heat the olive oil in a pan.
Add the eggplants and cook for a few moments.
Add the cherry tomatoes and basil.
Pour in the garlic.
Heat the plates.
Add the pasta to the plates.
Pour the ultra hot eggplant preparation
Add the slices of raw ham.
Finish by coarsely grating the Parmesan.
Enjoy immediately.
Preparation time: 15 minutes
Cooking time: 12 minute (s
Number of people: 4
4 star rating: 1 review
What wine to drink with: Castellane aubergines
My favorite wine for this recipe: Vino Santo del Chianti Blanc Grape variety Ugni blanc, Malvazia
Temperature between 08 ° and 10 °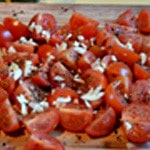 Cut the cherry tomatoes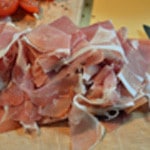 Strip the ham
Sear the tomatoes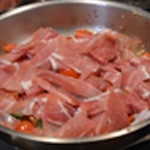 Sear the ham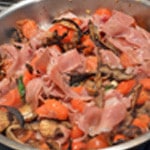 Let reduce