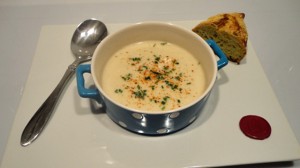 Recipe: Celery Soup
Celery soup recipe, I enhanced this soup with Bresse blue, to give it a very creamy side. An original soup recipe, always ideal for consuming vegetables, they love it in this form. A celeriac soup for a white color, I decorated it with chives and Espelette pepper. There's nothing like celery soup to start a meal in this cold autumn.
Recipe ingredients
Celery soup recipe for 6 people:
1.2 kg of celery
1 onion
150 g of Bresse blue
20 cl of whipping cream
2 tablespoons of vinegar.
1 tablespoon of olive oil
½ teaspoon ground nutmeg
½ lemon
250 g of Bresse blue
2 liters of water
Instructions
Peel the potatoes, then cut them into slices.
Peel the celery and cut it into sticks of the same size.
Peel the onion, then cut it into half rings
Heat a saucepan with the olive oil;
Add the celery to the hot oil, then the potatoes and finally the onion.
Leave to color, stirring often.
Cover with water, and simmer for 20 minutes.
Check the cooking, by inserting a knife tip, if the tip goes in easily it's ok.
Mix the celery soup.
Sprinkle with nutmeg.
Add the cheese and the liquid cream, mix again.
Sprinkle with chives and Espelette pepper.
Serve very hot.
Preparation time: 20 minutes
Cooking time: 20 minutes
Number of people: 6
4 star rating: 1 review
What wine to drink with: Celery soup
My favorite wine for this Touraine Sauvignon recipe: Sauvignon blanc grape
Temperature between 10 ° and 12 °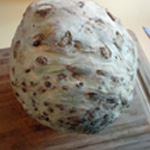 Celery Ball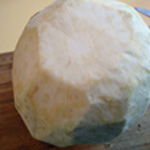 Peel the celery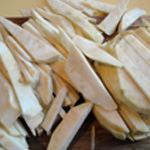 Stick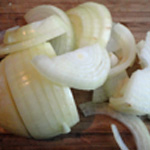 Thin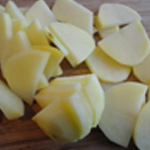 Cut it pdt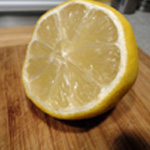 Squeeze the lemon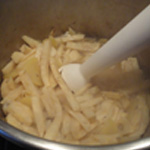 Mix the celery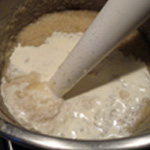 Cream the soup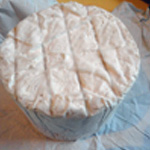 Bleu-de-Bresse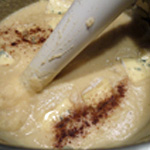 Nutmeg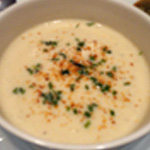 Zoom