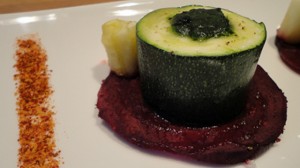 Recipe: Stuffed Zucchini in the Oven
Recipe for stuffed zucchini in the oven, a garnish to accompany a meat dish with red beets that will accompany the stuffed zucchini in the oven. Cooking the stuffed zucchini in a hot oven at 200 ° for about fifteen minutes. My zucchini stuffed with wild garlic pesto, placed on a bed of beets, just drizzled with a drizzle of virgin olive oil.
Recipe ingredients
Baked stuffed zucchini recipe for 4 people:
2 courgettes
1 large beetroot
4 large tablespoons wild garlic pesto
An egg
Salt and pepper
Instructions
Rinse the zucchini under running water, then dry them with kitchen paper.
Remove the ends of the zucchini, then cut them in half.
Remove the middle of the zucchini with an apple maker.
Peel the beetroot, cut it into very thin slices.
Mix the egg yolk with the wild garlic pesto.
Add salt and pepper.
Line a baking dish with baking paper.
Place the beetroot slices on the paper.
Place the zucchini upright on each slice of beetroot.
Fill the zucchini with the pesto mixture.
Add salt and pepper.
Sprinkle a light drizzle of olive oil over the vegetables.
Pass in a hot oven at 200 ° for 15 minutes.
Preparation time: 20 minutes
Cooking time: 15 minutes
Number of people: 4
4 star rating: 1 review
What wine to drink with: Stuffed zucchini in the oven
My favorite wine for this Côte du Rhône recipe Grape variety: Grenache noir, Cinsault, Syrah
Temperature between 15 ° and 16 °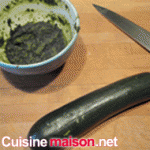 Wild garlic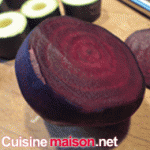 Beetroot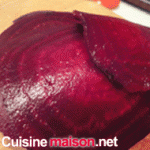 Slice the beetroot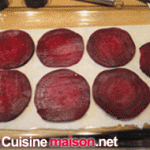 Tidy up the slices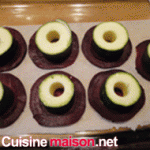 Dig the zucchini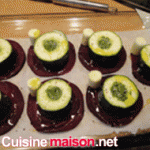 Garnish the zucchini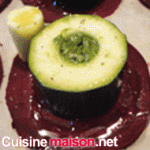 Zoom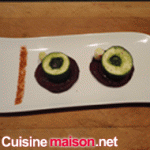 On the plate