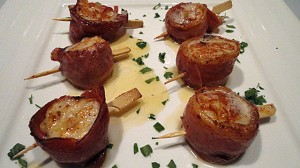 Recipe: Scallop and Comté cheese recipe
Recipe Noix de Saint Jacques and Comté, I wanted to combine Franche Comté and the sea, it is so far from home. A recipe with scallops, lightly au gratin with Comté du Jura, we loved this recipe. Very simple here is a recipe with scallops that will surprise your guests. I used frozen scallops for this recipe.
Recipe ingredients
Scallop and Comté nut recipe for 4 people:
12 large scallops
6 slices of Luxeuil raw ham
120 g of Comté
15g butter
1 tablespoon of olive oil
12 wooden picks
Instructions
Slice the scallops in half, without cutting them completely.
Cut the Comté into small squares the diameter of the scallops.
Slice the cured ham in half lengthwise.
Place a square in each scallop.
Surround the scallop with the strip of raw ham.
Prick the scallops ²with a wooden pick.
Heat a pan with the butter and oil.
Season the scallops with salt and pepper.
Place the walnuts in the very hot fat.
Drizzle the upper part with a large spoon.
Avoid turning them over so that they keep their shape.
Serve immediately and very hot.
Preparation time: 10 minutes
Number of people: 4
Cooking time: 4 to 5 minutes
4 star rating: 1 review
What wine to drink with: Walnut from Saint Jacques and Comté
My favorite wine for this recipe: Côte du Jura Savagnin Grape variety Savagnin white; Pinot blanc; Chardonnay
Temperature between 10 ° and 12 °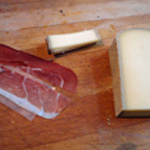 Ham and Comté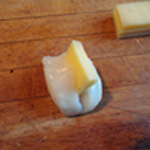 Cut and county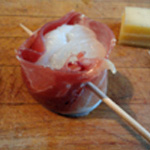 Wrap with ham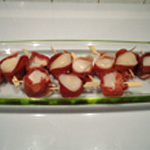 Ready to cook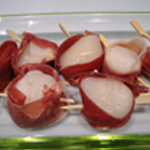 Zoom
Store in a dish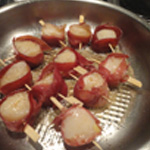 Grab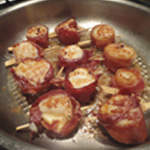 grab the other side