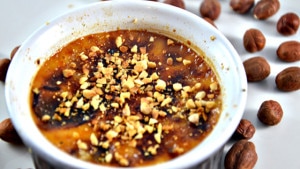 Recipe: Hazelnut crème brûlée
Hazelnut creme brulee recipe, by now you know my daughter and son love crèmes brulees. We do them regularly and we test a lot of ways to accommodate them, of course we make you enjoy the most interesting. Here hazelnut creme brulee, lightly scented cream with a nutty taste, a little taste that is barely persistent but difficult to find. I lent my torch this week, so I'm going to test the grill to burn my hazelnut creme brulee
Recipe ingredients
Hazelnut crème brûlée recipe for 4 people
1/2 liter of liquid cream
50 g of crushed hazelnuts, or 3 tablespoons of hazelnut powder.
3 egg yolks and 1 whole
90 g of sugar for the caramel
4 teaspoons of brown sugar
Instructions
Roast the crushed hazelnuts.
Reserve a tablespoon of roasted hazelnuts.
Pour the sour cream into a saucepan.
Mix the crushed hazelnuts, then add the cream powder.
Heat the cream, let simmer for 5 minutes then infuse for 10 minutes off the heat.
Let the cream cool.
Separate the egg yolks from the whites then add the yolks with the whole egg and the sugar to the cream.
Whisk to mix well.
Pour into the ramekins. Place in a bain-marie with cold water at the start and a hot oven at 185 ° for ½ hour. Be careful, this is the hardest cooking in crème brûlée. It should never boil hard, just a few air bubbles on the surface and the cream is ready.
Leave to cool and put in the refrigerator.
Before serving, generously distribute the brown sugar over the ramekins.
Burn the sugar with a blowtorch.
Add a few roasted hazelnuts.
Preparation time: 10 minutes
Cooking time: 30 minutes
Number of people: 4
5 star rating: 1 review (s)
What wine to drink with: Hazelnut crème brûlée
My favorite wine for this Loupiac Grape variety recipe: Sémillon, Sauvignon blanc, Muscadelle
Temperature between 06 ° and 08 °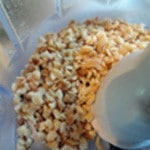 Chop the hazelnuts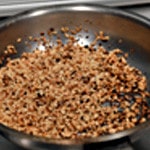 Roast the hazelnuts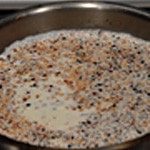 Cook with the cream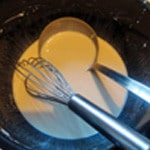 Add the eggs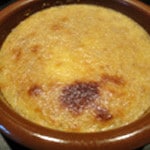 Cook the creams