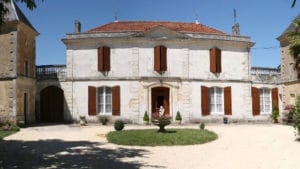 The Sou family arrived in this area in 1930, the castle was built in the 16th century by Canon Lacouture, but it was in the 17th century that the estate became a wine property. For almost a century, know-how has passed from father to son. This castle overlooks the Gironde estuary on 12 hectares of vines, it is said to be the "little Switzerland of Bordelaise".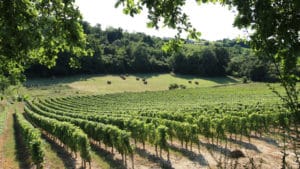 It was in 2002 that Romain took the helm of this estate after his studies at the Rural Institute of Vayres, option vines and wines. Romain and his wife will stand out in the Côtes de Bourg for their passion for wine (I particularly liked the Côte de Bourg cuvée Adrien, a beautiful tribute to their son), but also for their way of welcoming local visitors. arms wide open, which denotes an atmosphere appreciated by all.
But the château also and above all stands out for the quality of its wines and also for its investment in humor and comics; indeed every year it is the comic strip festival at Château Lacouture, during the period of May. We find this humor in the labels of its rosé and its traditional method. Of course, if you pass by there, don't forget that, every spring, it's the comic book festival at Château Lacouture where Romain will make you discover all his work in joy and good humor.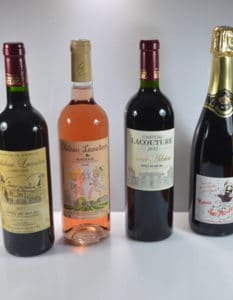 Côte de bourg 2012 Cuvée Adrien
Already at the start with its dark ruby color, this nectar calls out to us. From the best plots, it stands out with its nose, the first aromas immediately awaken our taste buds. Spicy and fruity at the same time, I loved its length in the mouth, some found some notes of cassis, others some woody notes with accents of tobacco and almond. This cuvée is a tribute to his son Adrien. I loved.
Côte de bourg 2012 Carpe Diem
This Côte de Bourg on the palate is a dense wine, with a supple attack and a silky but deep substance, nice round tannins, a wine with a deep ruby color and purplish reflections in its youth. The nose is complex, intense and clean, with primary notes of red and black fruits. On the palate, it is a dense wine with a supple attack with some nice notes of round tannins.
Château Lacouture rosé
Dry rosé and a little full-bodied, full of freshness, it had already appealed to us before tasting it with its label, full of fantasy, a real crush before tasting it. Ideal in the freshness of a tree in the middle of summer, yes I love it, on a blanket and Cupid watching. Of course here, it is especially the women who are crazy about it, I am talking about rosé of course, although …
Traditional method Suki Pétille
Still a lot of good humor with this sparkling suki wine, Romain innovates with one of the first sparkling wines in Côte de Bourg, a bet he is winning! The result is a light, fruity, cheerful and sparkling wine. Some experts compare it to Champagne, in any case, taste, you will surprise your friends, with this wonderful wine and its beautiful label.
Meeting in Gauriac at Château Lacouture for the comic book festival on May 13 and 14, 2017
Chateau Lacouture
3 route du Fronton
37710 Gauriac
Phone: 05 57 64 82 31
Mail: chateaulacouture [at] orange.fr