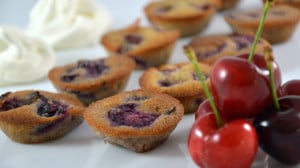 Recipe: Cherry Financiers
Cherry Financiers recipe with the abundance of cherries this year, here is a recipe to consume this fruit differently, it will flood the financiers with its sweet juice. My neighbor's beautiful cherries don't even bother to pick them, frankly sometimes I find that I abuse in addition they were so tasty that everything was eaten in no time. Cherry financiers, probably my favorite
Recipe ingredients
Cherry Financiers recipe for 20 pieces:
300 g cherries
25 g flour
45 g of ground hazelnuts
85 g icing sugar
1 g of vanilla powder
120 g butter
2 egg whites (70 g)
Instructions
Preheat the oven to 200 °
Rinse the cherries under the tap.
Pitted the cherries.
Cut the cherries into small cubes.
Sift all the powders together.
Incorporate the egg white into the powders.
Cook the butter so that it becomes hazelnut.
Filter the butter through a Chinese.
Then add the hot, but not boiling, brown butter.
Whisk the mixture to obtain a homogeneous paste.
Add the cherries, then whisk to incorporate the strawberries.
Refrigerate for 30 minutes.
Pour the dough into the silicone molds, fill halfway.
Bake the financiers for 20 to 25 minutes, it is safer to watch with the juice of the cherries.
Preparation time: 15 minutes
Cooking time: 25 minutes
Number of people: 2
4 star rating: 1 review

What wine to drink with: cherry financiers
My favorite wine for this recipe: Cabernet d'Anjour Cépage Cabernet Franc, Sauvignon
Temperature between 08 ° and 12 °
Thanks to Patrice and Françoise for their cherries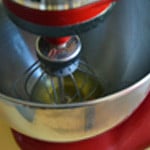 Beat the egg whites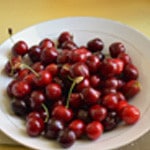 Cherries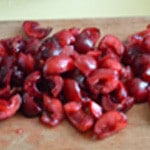 Pitted the cherries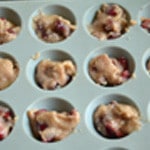 Fill in the footprints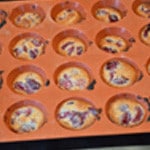 Financial baked