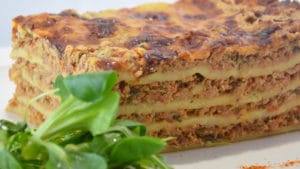 Chicken and ham lasagna recipe.
Instructions
I picked up ham scraps and chicken fillets on promotion in my hypermarket, so chicken and ham lasagna. I like to cook lasagna, it's a bit long, but the result is so rewarding. We love all fresh pasta, I like working it by hand, flouring countertops, spreading and cutting the dough. Chicken and ham lasagna, to try it is to adopt it. Long live the homemade lasagna, they are always very tasty.
Chicken and ham lasagna recipe for 10 people:
500 g of fresh dough
1 kg of chicken
450 gr of white ham heel
½ cooked Morteau sausage
400 g carrots
1 bunch of parsley
2 onions
50 g flat-leaf parsley
300 g of sundried tomatoes
1 can of peeled tomatoes
4 mozzarella balls
150 g Emmental
8 tablespoons of olive oil.
1 teaspoon of paprika.
Salt and pepper
Make the dough fresh like here.
Chop the chicken and ham or have it done by the butcher.
Salt 10g per kg of meat and pepper 1g per kg of meat.
Stem the parsley, then chop it.
Peel then chop the carrots and the peeled tomatoes.
Chop the onions, the sundried tomatoes and 3 balls of Mozzarella.
Sprinkle with paprika.
Mix the preparation well.
Lightly oil the bottom of a baking dish.
Place a row of fresh dough.
Then a row of sauce, sprinkle a little grated cheese.
Cross the pasta and renew the layers until all the preparation is used up.
Finish with the grated cheese and cut the Mozzarella ball into slices.
Preparation time: 45 minutes
Cooking time: 1 hour (s)
Number of people: 10
4 star rating: 1 review
What wine to drink with: Chicken and ham lasagna
My favorite wine for this recipe: Bourgogne Pinot Noir Grape Pinot Noir
Temperature between 15 ° and 17 °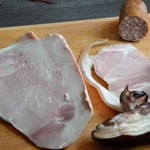 Meat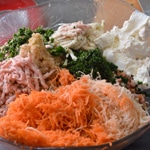 Ingredients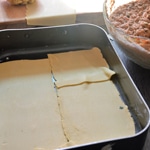 A layer of dough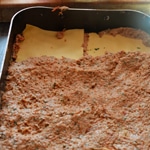 A layer of meat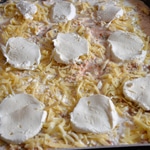 Cut the mozzarella