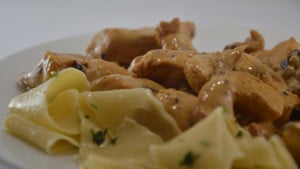 Chicken fillet recipe with champagne, I still had champagne from last night's aperitif. I like poultry with white wine and cream sauces. The cooking of this chicken remains the most important part, overcooked it would be dry, the meat must be tender and soft. Léonie loves chicken, it's her favorite meat in winter, I like it, especially beautiful yellow chicken fillets like the ones I just cooked, with field mushrooms, harvested in my friends' reserve. Chicken is also a very affordable meat. It is found on all continents and it can be cooked in all sauces, if I can put it that way, sweet or savory. Chicken fillet in champagne for our lunch meal, with some fresh homemade pasta, like tagliatelle that I cut directly with the donut wheel.
Recipe ingredients
Champagne chicken fillet recipe for 3 people:
2 large yellow chicken fillets
1 onion
150 gr of Paris mushrooms
15 cl of champagne
1 pinch of Espelette pepper
20 cl of sour cream
Instructions
Peel the onions, then finely chop.
Heat a wok pan
Add the mushrooms and onion.
Allow the water to drain, until the vegetables are free of water.
Add the champagne and reduce to dryness.
Slice the fillet crosswise into 1 cm ends.
Add the butter and sear the chicken in the hot butter.
Turn the chicken pieces over and set aside as soon as they are nicely colored.
Add the rest of the champagne and the cream, reduce by half.
Return the chicken to warm it up.
Serve immediately on hot plates.
Preparation time: 10 minutes
Cooking time: 20 minutes
Number of people: 3
4 star rating: 1 review
What wine to drink with: chicken fillet with champagne
My favorite wine for this recipe: Champagne Grape variety: Chardonnay and Pinot noir
Temperature between 07 ° and 12 °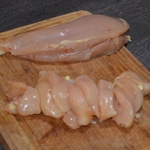 Slice the chicken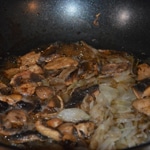 Sear the mushrooms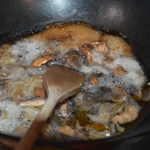 Add wine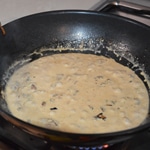 Cream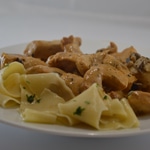 Zoom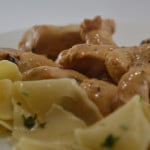 Chicken fillet recipe with champagne