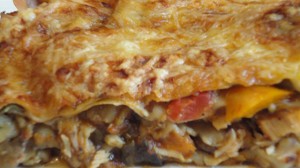 Recipe: Chicken lasagna
Chicken lasagna. Here is how to prepare lasagna, I made my dough but for convenience you can use ready-made and often pre-baked plates. Recipe for meat lasagna, You have to roast the chicken with spices to give it more flavor. Chicken lasagna accompanied with a nice green salad for a dish to do in summer as in winter, I also like added seasonal herbs. Recipe for homemade lasagna cooked with chicken breasts, you can enjoy them as part of a diet.
Recipe ingredients
1,500 kg of chicken breasts
2 tablespoons of soy sauce
10 tomatoes
2 eggplants
200 g mushrooms
3 zucchini
200g grated cheese
1 tablespoon of sweet paprika
½ teaspoon of black pepper
¼ Espelette pepper spoon
1 tablespoon of thyme
1 bunch of flat-leaf parsley
750 g lasagna dough (see the fresh pasta page) or use ready-made sheets
Instructions
Rinse the vegetables under running water, then slice them finely.
Cook the chicken breasts for ½ hour in the oven at 180 °, with 2 tablespoons of soy sauce and Espelette pepper.
Brown the shallots in a large Dutch oven with a tablespoon of olive oil.
Add the mushrooms for a few minutes over high heat, then add the chopped parsley.
Add the eggplants, then the zucchini, tomatoes, spices and simmer for 1 ½ hour, covering the pot to keep as much juice as possible.
Butter a baking dish,
Start with a ladle of vegetables, spread it well at the bottom of your dish.
Then a layer of dough.
A layer of vegetables, a layer of dough.
Store the chicken fillets cut as thin as possible,
Add a ladle of liquid.
Then a layer of dough, a layer of vegetables,
Add the 100g of grated cheese.
Then a layer of dough and continue with the vegetables until all the ingredients are used up.
Finish with the grated cheese.
Place in a hot oven for 45 minutes at 190 °,
Use the grill if your top is not browned enough.
Preparation time: 60 minutes
Cooking time: 45 minutes
Number of people: 8
4 star rating: 1 review
What wine to drink with: Chicken lasagna
My favorite wine for this Cornas Grape variety recipe: Syrah
Temperature between 18 ° and 19 °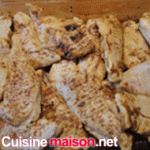 Roast the chicken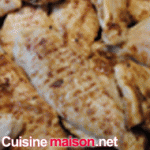 Zoom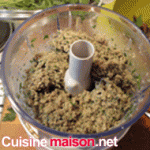 Mix the chicken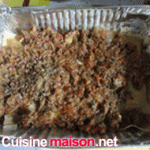 Spread the stuffing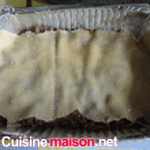 Then the dough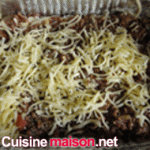 Sow the county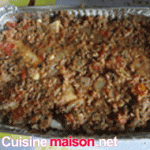 Last layer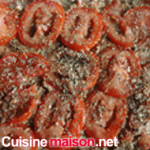 Finish with the tomatoes